Be 'In-Tune' with Nature
Bringing it all back home
Winter is a time for deep reflection, new ideas and planting the seeds of possibilities. As we move into winter, I am aware of the need to create our own wealth and health, through our individual and community efforts.
I ask the questions:
how do we plan locally to meet most of our needs?"
is it possible?
are we ready to build the necessary infrastructure to become self-sufficient?
or do we want to carry on importing all our goods, producing nothing in our own country and relying on other countries for our needs?
do we have the right skills?
how do we learn new ways of connecting with our local environment and community?
where do we start?
are our individual efforts enough?
It seems to me that we are all here on planet earth, each living in our own little worlds. I see many young people lost, lonely and without a supportive community. Some are depressed, they have no real friends or meaningful work. One young man told me recently that he wouldn't wish anyone else to feel the way he does.
The Positive News
There is some good news to share which I think will give you some hope in these very worrying times. It is good to know that we are not alone. There is definitely movement and change going on now. As the old ways begin to lose their impact, many people are working to bring in those changes that help to create a brighter future for us all, with the potential for meaningful work and vibrant communities,
Our children will need to learn new skills for a more natural lifestyle; they will be our most valuable resource. Every effort should go to help them become nature's friend and grow into adults who care passionately for a happy and healthy future, both for humans and all of natures wild life.
We can educate them about growing food, growing our own cloth our own natural plant dyes and many many other skills which they will need in a slower, more artisan future. Lets get going.
It has all been done before
In the pre-industrial era here in the north-west pennines and in fact all over the British Isles, people had cottage industries. There were spinners and weavers who worked from home. Other people had really good sewing skills and made garments locally. I can remember being fitted for my school uniform as a child.
There was a wood-working industry; my own father worked in the local firm just up the road from our home. I remember musical talents of all kinds, young children usually learnt to play an instrument, or sing and we had many family musical gatherings. Local women had foraging skills and knew all about the produce from the hedgerows, both for food and for medicine.
All of this can be revived, in fact it has already begun with the new emerging flax industry near here in Blackburn. There are many, many more skills that could be re-learnt and developed. We still have time to 'grow our own economies'.
| | |
| --- | --- |
| | |
| Harvesting flax in England, 1950's | Linen fibre after processing the flax |
| | |
The North West of England leads the way
I have always been fascinated with textiles, both my mother and grandmother were Lancashire weavers in the cotton industry. Now we are looking at bringing back the flax industry for linen, a long forgotten fibre
Some high-profile people have a strong sense of what we have lost, and they are prepared to talk about it.
" My parents had a manufacturing business in Bradford making jackets, employed lots of women who sewed for them and sadly everything went to China and they lost the business." Anita Rani
" We used to be completely self-sufficient in clothing in this island, we would wear flax and we would wear British Wool that we farmed on our hillsides" Patrick Grant
Building back our own industry and communities
I have researched what is happening locally in my region and across the northwest of England. I am humbled to know that there are people out there who are pioneering the way ahead.
Homegrown Homespun project is a flax growing project in Blackburn started by a team that includes Justine Alderly Williams from Fibreshed network.
Working with Patrick Grant of Community Clothing, they have been trying to bring back our home grown British Flax industry. We used to have a huge flax industry in the British Isles but nearly everything was lost when we looked for cheaper labour and everything moved to other countries.
Patrick says, "The loss of textile manufacturing, and in fact the loss of all manufacturing on everyday goods, has had a devastating effect in communities, particularly industrial regions like the Northwest of England, Yorkshire, Lancashire, the East Midlands. Those jobs gave people pride and a sense of dignity and I think by trying to rebuild something we are not just putting money back into the economy, we are building community."
Justine Williams and Patrick Grant get flax going in Blackburn, Lancashire

The project has been featured on BBC Countryfile in a long-form documentary. If you don't have a BBC licence, you may still be able to view examples of linen production at the BBC archives.
I agree with Patrick when he says "Wouldn't it be wonderful to think that in the future we could be wearing clothes grown right here on our doorstep and dyed with plants that we have grown right here."
More information
You can find out more about the plants at the Homespun Harvesting website,
Flax - Linum usitatissimum plant of the family LINACEA, cultivated both for its fibre, from which linen yarn and fabric are made, and for its nutritious seeds, called flaxseeds or linseeds from which linseed oil and linoleum is obtained.
Woad - Isatis tinctoria Dye colour - blue, aqua, lilac Can be grown indoors from seed and planted out when the weather has warmed. It grows in big clumps of green leaves, which fill out to about a foot wide. In its first year you can harvest the leaves for the dye pot throughout the summer and early autumn. Learn more from the book "Wild Dyer" by Abigail Booth
There is also a news roport with more information about tbe Homespun Harvesting project and industrial revival.
Further afield, Babs Behan runs Bristol cloth project, which sells scarves, cloth and knitting yarn made from wool sourced from farms within 15 miles of the city.
"It's simple," she says. "We need to make less, make it well, and make it last. We must make sure the things we bring into our lives - and wardrobes - are appreciated, looked after, and go back into the soil as food, not poison."
Happy New Year 2023 to you all! Keep positive and keep up the good work.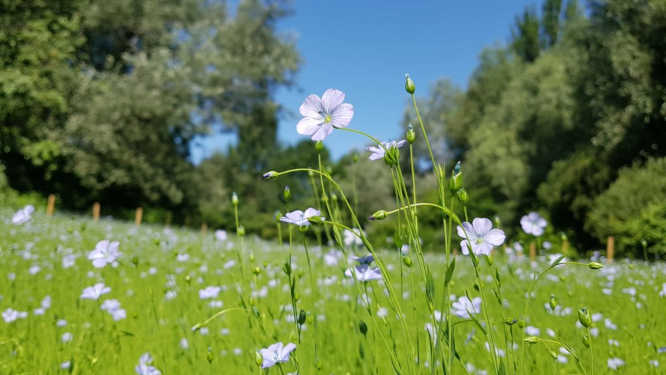 Flax at Blackburn - credit Shelley Tomlinson at Fibreshed