A welcome from Marie Louise Edwards
We are living in a profound time of global, economic, political, environmental and social change. Many of us have been feeling an urgent need to find a different way of being and so we are seeking out healthy solutions to the challenges that we face, that honour, value and enable all living things. We are reminded that we are 'a part of' nature and that we are dependent on the natural world for our continued sustenance and survival.
At this point in history we are experiencing the corporate domination of our food supply and find that we have limited access to the land that we all share. At the same time, we clearly need a collective change in direction to live in right relationship with our planet and each other. Our food supply is overloaded with toxicity. We are living in a world out of balance.
We as individuals are ourselves out of balance with little free time to pursue a healthy lifestyle, as are our communities, nations and the entire global system. In terms of our soil depletion levels we appear to have just 40 years' worth of topsoil remaining requiring that we act now on addressing this for the necessity of future generations. It would be easy to fall into deep despair. Perhaps feeling the depths of this is necessary for our ability to transform. But we do need to get up and take action.
Help comes as nourishment; physical, emotional and spiritual. We need to reconnect with each other and work together for our mutual benefit; taking care of ourselves and others.
Many in this field have been trying to forge ahead and lay the foundations for permaculture to take root. It is now up to each of us to bring it forth into reality and to enable those around us to do the same. We have all endured the tragedy of this age and we will only be successful in creating a better way of being if we all come together in support of each other and all of life. Perhaps this is also a call for us to rise together in unity. As Angus Soutar says; "The experience of ourselves, and our own development, can be brought forth only with the help of others."
We are aware that it is now time for us to move in to adulthood as a species as 'Humanity', taking personal responsibility and accountability for our impact on each other and our planet. We can grow together as a community that works for the benefit of all life. In fact, the definition of the word humanity includes descriptive terms such as kindness, compassion, mercy and care. Yet at the same time we need to be able to say 'no' when we need to. No to those whose self serving intentions do not serve the majority for they will be held accountable for their actions and the devastating affects they have had. We will not shy away from working together, in unison, for the protection of ourselves, humanity at large and the creatures and kingdoms that we share this world with.
Here, we aim to share information about the Northern School; to deepen our understanding of how systems function as an interconnected whole; share permaculture designs and ideas; and create an organic network of individuals with various skills and abilities who work together for the common good.
Contribute!
Please contact us if you would like to write articles, share designs, introduce enterprises or advertise services. We also invite your questions and feedback.
Over the next few editions we will have a 'Your Say' section which can open up discussions and reflections on many topics. We hope that this will be a useful contribution to the wider, international permaculture community. Working collaboratively with them from a position of mutual support and growth.
Closing reflections
We hope that this newsletter is of use to you and that you will be interested in its development and also, in the evolution of the Northern School of Permaculture. On that note, perhaps we should remind ourselves to live lives that tell great stories. Perhaps one day we can tell our incredible tale of how, together, we created a reality that brought 'the seemingly impossible ideal' for our world into fruition. Did we forget to believe in ourselves? Whoever said Utopia was nonsense? Perhaps it was someone who did not dare to dream.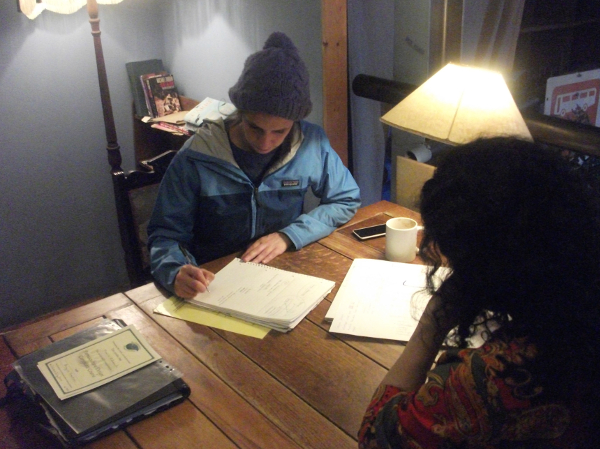 Editorial meeting at "Kim-By-The Sea".
"I like this picture. This is not an office, nor is it anywhere near the sea. Our readers might see from this that we are already 'anti-fragile'."
(Angus Soutar)