In times of tumult and change, Spring has sprung…
Hello, as late Spring is upon us and the land around us is warming, we welcome you to this latest edition of Northern Edge. It seems, perhaps unsurprisingly, that we remain in a global period of uncertainty and so we may wonder how best we will be able to hold onto a sense of stability amidst ongoing turbulent times.
In a world of disorientation, turmoil and disruptions we may be wise to seek more familiarity, connection and sense. It can be challenging to decipher for ourselves where the 'truth' lies on various issues at the forefront of our media and political worlds. It might be that such preoccupations distract us from the busy work of generating our own solutions, relating with each other - forging bonds of friendship, mutuality and support. This groundwork will be more beneficial for our wellbeing, particularly in our immediate localities, as we move forward. If we respond to the realities of our world by sticking our heads in the sand, then this leaves us vulnerable. Yet, exploring these realities in the cyber realms of distorted and conflicting narratives and agendas can also feel futile and unrewarding. A return to the concrete and physical world to empower and nurture us has perhaps never been so necessary. Fortunately, this is also where we can engage with the practicality and promise of permaculture.
As the challenges of the coronavirus pandemic begin to subside, we may find ourselves gathering once again with comrades, friends and colleagues. If you feel inclined to connect more with permaculture and our developments in the North, please do explore our upcoming offerings on our What's On page. We always value deeply reconnecting with our students; past, current and prospective. It's always fabulous to hear from you through Northern Edge too, as your work and developments moving on from our courses are often inspiring and gratifying for us all to hear about - as we, together, explore other ways of being in the world.
In times of monumental change, it can be fruitful to remind ourselves of the quote by Cynthia Occelli,
"For a seed to achieve its greatest expression, it must first come completely undone. The shell cracks, it's insides come out and everything changes. To someone who doesn't understand growth it would look like complete destruction."
It would be foolish to believe, given the environmental situation we find ourselves in, that a return to 'normal' as it was, is possible. How many of us would truly desire this if it was offered? So, it seems, we are in a period of urgent growth. As we know, not all seeds manage to germinate, there is much at stake and change, like the process of birth is both treacherous and exciting. Yet the power of life, living systems and the natural world remains evident, particularly at this time of year when we are immersed in the potency of renewal. This is perhaps most delicately revealed to us in late Spring with the gentle emergence of forget-me-nots. Their pale blue star shaped flowers quietly remind us that we are able to heal and enter into new stages of life, even when we have been subject to great losses.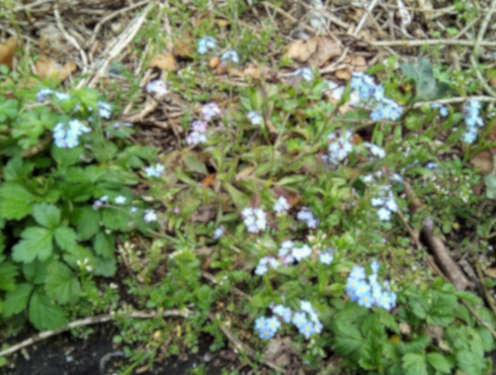 Forget-me-nots - self seeded