Permaculture Design Course, North Manchester
PDC at Manchester Road, Bury, North Manchester, February 2020 to January 2021 This full Permaculture Design course, certificated internationally by the Permaculture Research Institute will run on one Saturday per month over 12 months, it starts on the 22nd February 2020 and finishes in January 2021. Learn more and booking information.
This course is available in a modular form.
Tell your friends! Poverty need not prevent people from attending. Payment plans may be negotiated with those who have difficulty finding the course fee. For more information, see more on our website.
Permaculture Design Course, South Manchester
PDC at the Parsonage, Didsbury, South Manchester, October 2020 to July 2021. This full, modular Permaculture Design Course, certificated internationally by the Permaculture Research Institute will run one Sunday a month, starting with a full weekend in early-October. Sessions will continue one Sunday a month until July 2020. Learn more and booking information.
More about the Permaculture Design Certificate Course (PDC)
The Northern School of Permaculture delivers, amongst other things, the Permaculture Design Certificate Course (PDC). This is open to anyone who wants to create a sane and safe future for themselves, their friends and their families. The course is based on the pioneering work of Bill Mollison and follows the international curriculum of 72 course hours, as originally designed by Bill himself. Our lead trainer is Angus Soutar who has nearly 30 years experience of practising and teaching permaculture design. Angus is accredited internationally by the Permaculture Research Institute (PRI).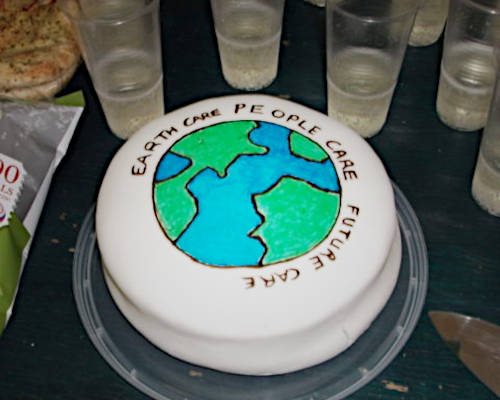 The ethics of caring and sharing

---
Permaculture design in Ethiopia
In February, we will have a visit from our colleague Asmelash Dagne Dakito, who is a permaculture designer doing some inspiring work in Ethiopia. He is visiting Bury on Saturday 22nd February and he will be talking about his work at an open event at the Manchester Road Community Arts Centre at 3.00pm.
Asmelash has completed his diploma portfolio for the Permaculture Institute of North Britain and he illustrates how permaculture spans both the local and the global, validating our attempts to bring about a more stable and relaxed way of life, wherever we may be working.
---
Eco-Gardening and Practical Skills for Permaculture
The workshops in this programme enable the development of a specific permaculture-designed garden. The current series supports a one acre permaculture garden in Broadbottom which was designed by Paula Moses, one of the graduates from our recent PDC at Bury. It is located in an idyllic riverside spot and surrounded by woodland. It is already a productive, beautiful and abundant garden and we are looking forward to delivering the Eco-Gardening and Practical Permaculture Skills Spring programme there and further supporting the design's implementation process.
The Art of Composting 29.02.2020 - Unlock the mysteries of soil to design efficient polycultures. Soil is the foundation of the garden. How would you design efficient composting systems that fit your site's needs, your lifestyle and available time and resources? If you want answers, you will find them on this course. Read more and booking information.
Gardening with Perennials 07.03.2020 - learn how to apply the ecological patterns found in forests to design permanent edible and medicinal cultivated habitats. These patterns of cultivation can be applied to any scale, from a patio or balcony garden to any acreage, although the focus of this workshop will be on urban settings, ranging from private to community garden spaces. Read more and booking information.
Self-watering Systems 28.03.2020 - Learn the theory and practice of efficient self-watering systems for any size garden. Drought proof your garden and go on holidays knowing your plants shall be well watered. Read more and booking information
Polycultures for Spring and Summer 04.04.2020 - From window box to market garden you will learn how to design effortless planting schemes that nurture soil, wildlife and people. First we will explore the secrets of polycultures by learning the underlying principles that create successful communities of plants, and how you can use those patterns when gardening. Read more and booking information.
---
Introduction to Permaculture Design
This will take place at Hulme Community Garden Centre in Manchester on the 4th and 5th July 2020
If you are curious about what permaculture design is but are not ready to commit to a full Permaculture Design Course, this course is the ideal way to learn about what permaculture has to offer. Over two days we will provide you with an introduction to permaculture design and a basic understanding of how whole systems thinking can be applied in ecological and genuinely sustainable design. By the end of the weekend you should be aware of some principles of permaculture design and a few tools which you can use to facilitate permaculture inspired initiatives in your community. We aim to empower people to design sustainable solutions for themselves and with others rather than simply follow current trends. Find out more here
---
Ecological Gardens Design Course
The Ecological Gardens Design Course is suitable for students who are new to permaculture design and for students who have completed Permaculture Design Courses. Book and pay the deposit before 31st August 2020 to benefit from the Early Bird offer. From November 2020 to March 2021, over eight sessions we will guide you step by step on the journey to accomplish a final design with a plan to create your dream green space. The course will take place at The Parsonage in Didsbury, south Manchester. Places are limited to 12 and the course tends to get oversubscribed, so book early rather than later to avoid disappointment. Booking and further information about the course is here
---
Get involved!
If you haven't studied with us before, consider attending one of our events or courses.. If you are friends and colleagues, old and new, we invite you to:
help out on one of our courses
drop in on our PDC sessions to catch-up or update your knowledge
help organise an event near you
recommend our courses to your friends and help create some lively and dynamic course groups.