Ecological Gardens Design Course
The Ecological Gardens Design Course is suitable for students who are new to permaculture design and for students who have completed Permaculture Design Courses. The course is still open to graduates of our Northern School Permaculture Design courses. The introductory day (a summary of permaculture design) was held on 10th November. The next day is on Sunday 8th December. Find out more and booking information.
From November 2019 to March 2020, over eight sessions, we will guide you step-by-step on the journey to accomplish a final designed plan to create your dream green space. The course will take place at the Parsonage in Didsbury, south Manchester.
Permaculture Design Course
Available as a modular course
PDC at Manchester Road, Bury, North Manchester, February 2020 to January 2021 This full Permaculture Design course, certificated internationally by the Permaculture Research Institute will run on one Saturday per month over 12 months, it starts on the 22nd February 2020 and finishes in January 2021. Learn more and booking information.
Tell your friends! Poverty need not prevent people from attending. Payment plans may be negotiated with those who have difficulty finding the course fee. For more information, see more on our website.
More about the Permaculture Design Certificate Course (PDC)
The Northern School of Permaculture delivers, amongst other things, the Permaculture Design Certificate Course (PDC). This is open to anyone who wants to create a sane and safe future for themselves, their friends and their families. The course is based on the pioneering work of Bill Mollison and follows the international curriculum of 72 course hours, as originally designed by Bill himself. Our lead trainer is Angus Soutar who has over 25 years experience of practising and teaching permaculture design. Angus is accredited internationally by the Permaculture Research Institute (PRI).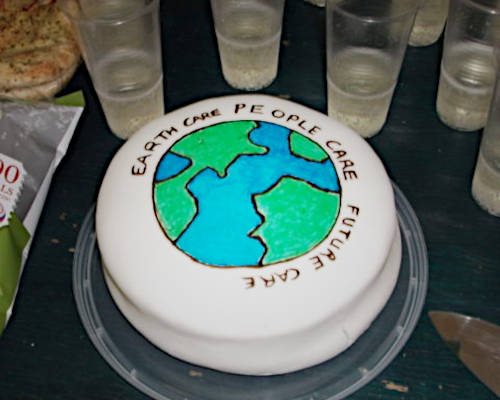 The ethics of caring and sharing

Northern School "Office Party"
OK, we don't have an Office, but we don't see how that's going to stop us having an Office Party to liven up the mid-winter gloom. Following the success of last year's "do", we will return to the Yard Theatre in Hulme, Manchester, on Wednesday 11th December 2019 in the early evening. Come along and catch up with the gossip, get some "real" news from people who are "in the know" and running interesting projects. Find some of your old friends. Escape the gloom of the overclouded virtual world, the icy winds of consumerism, the fog of frightful opinion polls. Book here. Open to all Northern School graduates, students and their friends!
Urban Gardening and Practical Permaculture Skills
The workshops on this programme enable the implementation of a specific permaculture designed garden. The current series supports the tiny urban garden project that focuses on growing plenty of food for a family of 3 on a very small space whilst also generating habitat for wildlife and a relaxing gathering space for family and friends. The garden has been designed to achieve the highest possible level of self sufficiency in terms of the resources it uses. Everyone who has taken part on any or several workshops will be invited to attend the event that launches this urban garden space at Homes for Change housing coop in Manchester.
The Art of Composting 29.02.2020 - Unlock the mysteries of soil to design efficient polycultures. Soil is the foundation of the garden. How would you design efficient composting systems that fit your site's needs, your lifestyle and available time and resources? If you want answers, you will find them on this course. Read more and booking information
Gardening with Perennials 07.03.2020 - learn how to apply the ecological patterns found in forests to design permanent edible and medicinal cultivated habitats. These patterns of cultivation can be applied to any scale, from a patio or balcony garden to any acreage, although the focus of this workshop will be on urban settings, ranging from private to community garden spaces. Read more and booking information
Self-watering Systems 28.03.2020 - Learn the theory and practice of efficient self-watering systems for any size garden. Drought proof your garden and go on holidays knowing your plants shall be well watered. Read more and booking information
Polycultures for Spring and Summer 03.04.2020 - From window box to market garden you will learn how to design effortless planting schemes that nurture soil, wildlife and people. First we will explore the secrets of polycultures by learning the underlying principles that create successful communities of plants, and how you can use those patterns when gardening. Read more and booking information
Get involved!
If you haven't studied with us before, consider attending one of our events or courses.. If you are friends and colleagues, old and new, we invite you to:
help out on one of our courses
drop in on our PDC sessions to catch-up or update your knowledge
help organise an event near you
recommend our courses to your friends and help create some lively and dynamic course groups.