Seaweeds in Fife
Report on workshop held by Jayson Byles
By Krysia Soutar
The coastline is a very productive "edge"
Seaweed absorbs carbon dioxide and releases oxygen
Seaweed is fast growing and nutrient dense
Seaweed harvesting supports coastal communities
Taken from the Future of Food at Mara Seaweed.
I have been eating and cooking with seaweeds, also known as sea vegetables, for quite a long time now so I was delighted to be at Jayson's session which was well attended. The weather was good, so we sat outdoors and listened to how seaweeds are hand-harvested in the wild along the Fife coast. Jayson's introduced his talk by saying " I want to talk about harvesting seaweed sustainably and balancing that with working for a commercial enterprise. I will have samples of seaweed and information on the many personal and environmental benefits of mindfully using this abundant crop."
He talked with passion for this long-neglected sea-side treasure. He works for a company called Mara, mara is gaelic for 'the sea". You can find a wealth of information on his website. He passed around various seaweeds and talked about each one. He explained about the harvesting methods used, including studies of the weather forecast, tides and sea conditions to ensure quality of the harvest and safety of the team.
Mara seaweed is harvested by hand in the pure wild waters around Scotland and Ireland. I am delighted to find a company who is passionate about seaweed harvesting and production near to home in the British Isles.
Seaweeds have great potential for improving human health and possibly other uses that have not yet been identified. They are full of minerals and are beneficial also to use as a mulch to improve soil fertility. You can visit website Jayson's website to find a wealth of information about the health benefits and more.
Next time, in the "In tune with Nature" section, I will include more information on the medicinal benefits of using sea vegetables for our own personal health and wellbeing.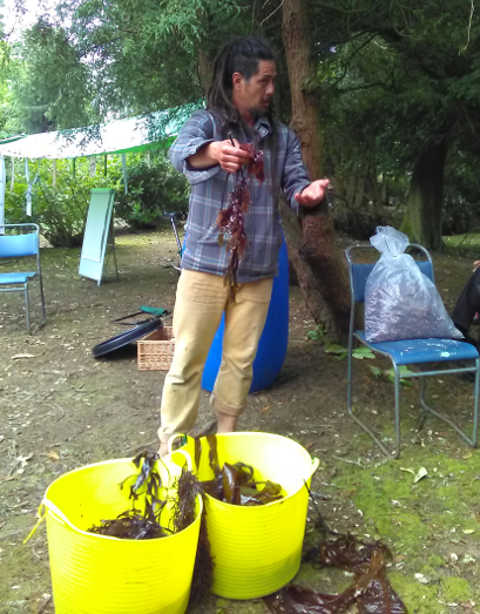 *Jason Byles talking about Seaweeds in Fife
at the Permaculture Scotland Gathering in June 2018*

"Open House" at The Yard Theatre in Hulme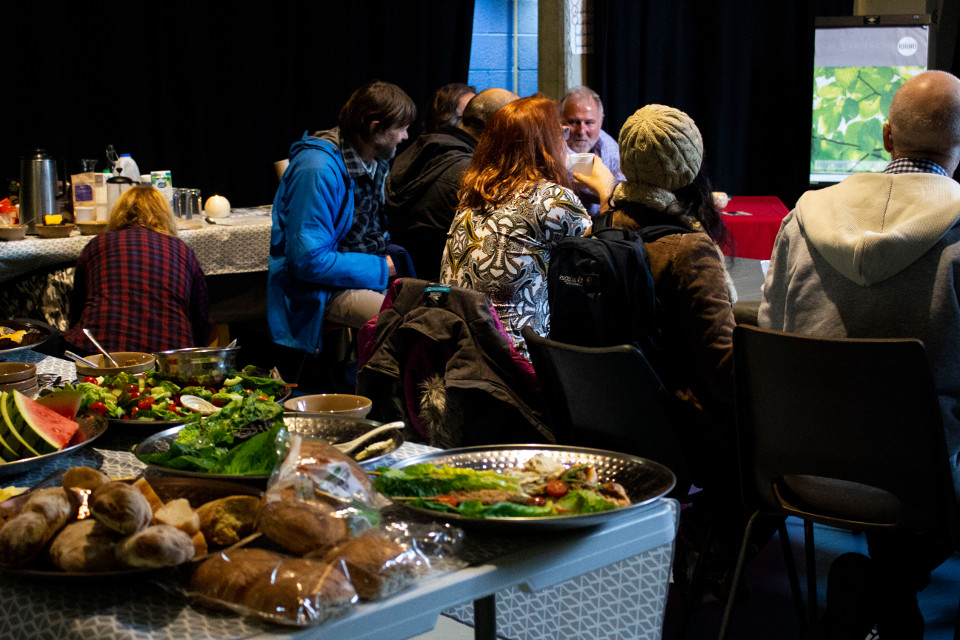 Plan "B" gets the room buzzing
We hosted a fringe event at the recent National Permaculture Convergence in Hulme, Manchester on the 22nd September. This was part of our programme for bringing Northern School folk close together and the afternoon was a great success. We hope to run another event soon. We were also able to create a productive "edge" with the main convergence, with many old friends dropping by and some new ones made on the day. We were very happy to renew our contacts with the south-west and north-east of England and to get further news from Argyle.
Although the afternoon was mainly a reception-style "meet and mingle", Angus gave a talk where he revisited Bill Mollison's "The Terrible Time of Day" (a session from Bill's PDC in the early 80's). He reviewed some projects that have attempted to brighten the gloom since then. We discussed some of the difficulties we have experienced with permaculture projects in the UK, especially when attempting to work with "the community" or corporations (both municipal and educational). We also looked at high profile projects (such as the Biospheric Foundation) and identified some dangers such as "the cuckoo in the nest" and "permaculture appropriation".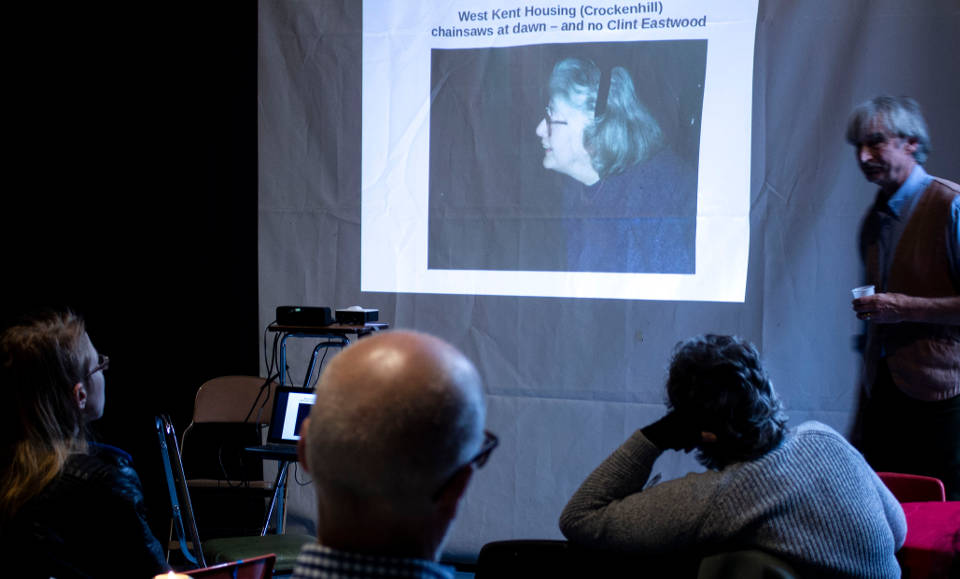 Angus explained why "Plan A" is not working...
Picking up on the work of some of our Scandinavian colleagues, Angus re-stated the rationale for "Plan B" for permaculture. "Plan B" is basically about concentrating on applying permaculture design in a slow and steady way, all the time strengthening beneficial ties within our home region. (There is more on bioregional working here).
There is an ever-present danger with people coming into permaculture whereby they get distracted by thinking at the global and general level, as opposed to considering the local and particular, where permaculture design may be used to its best advantage. This statement proved controversial, as Angus named Climate Change, Peak Oil, social "movements", university research and social media as distractions. Our work can go on perfectly well without giving our attention to any of these.
Of course, we must pay attention to all of those things as they impact at the local level, where they must be managed. But, for us, things like Brexit remain in their proper place as a coffee-break discussion, where they may sharpen our response towards inevitable uncertainty and unpredictability.
More information on "Plan B" and its origins are available on our Northern School website. James Taylor includes a review of our session in his excellent report from the main Convergence about bioregions.
Visit to Incredible Farm, near Todmorden
by Tim Shercliff
A group of our Northern School students and graduates visited the Incredible Farm near Todmorden on a cool, sunny day in early October 2018.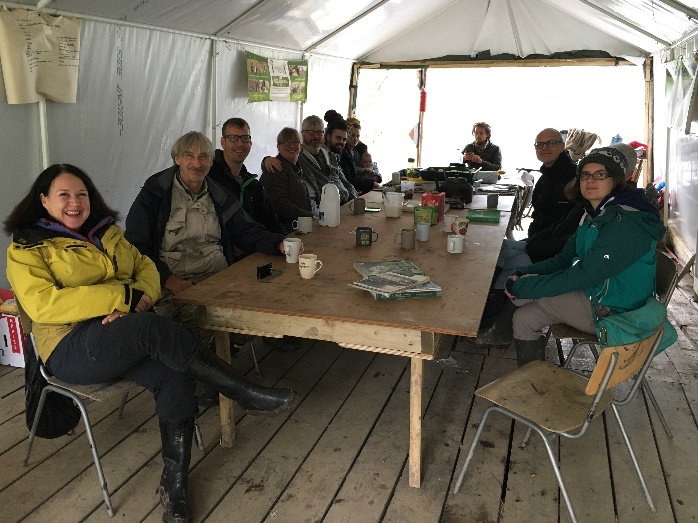 Photo by Tim Shercliff

We were greeted by Mike in one of many structures that have been created in remarkably quick time. After explaining that they had only been farming in this upland 10 hectare site at around 200-300m for just over a year, Mike took us on a tour around the farm.
We started by climbing uphill in fairly rough pasture, through silver birch plantations. The pasture has been divided into separate paddock. We met the two jersey cows, which are pretty tame, as can be seen in the picture.
Photo by Tim Shercliff
These, together with two Jersey/Dexter crosses, are given a lot of personal attention by Mike and Nick, with feeding surplus fruit and veg by hand helping them get used to people and making them happier when they come into their cowshed for the winter. Once indoors, they provide valuable manure, which, when added to the compost produced on-site, creates great organic matter for all the veg production.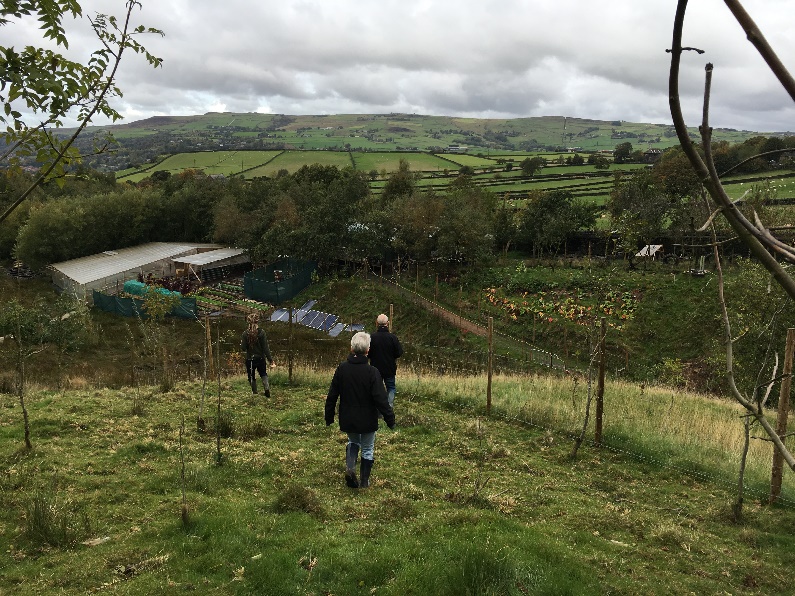 Photo by Tim Shercliff

This view of the farm from the higher pasture, provides a good perspective on the farm, sitting in a valley, fed by a stream which provides all the water the farm needs and kept going through the drought-like summer of 2018. It also shows the structures that have been put up in the last year or so.
The farm is on a long term lease of £1 per year, enabling longer term planning and investment for Nick and Mike. Volunteers, many of whom stay on site, supplement Nick and Mike's labour.

Photos by Angus Soutar

Outdoors, down in the valley, a variety of raised bed techniques have been built, some with 80cms-1m wide beds for ease of reaching across; some made from recycled tractor tyres, which, together with the matting that surrounds them, keep the weeds down and warm up quickly in the sun. As mushrooms and fruit are picked, some of these are dried in the simple, but effective double glazed drying frame, made with a polycarbonate double thickness sheet.
The chickens also have their own space, not roaming over the whole farm, but with plenty of space to forage for themselves and shelter. Elsewhere on the site, fruit trees are being grafted and planted in abundance and there are plans to provide a store at a stable ambient temperature.

Photos by Tim Shercliff and Angus Soutar

Indoors, again, the temperature noticeably increased by several degrees in the large greenhouse, which has been constructed on a handy slope and consists of multiple beds with clear matted walkways for ease of access. Having had polytunnels in the previous farm, there are distinct advantages of the new growing space, with everything in view, adequate headspace, more robust walls and roof and less time spent moving around between different sites and everything to hand being the chief ones. Mike uses this area, adjacent to the cow shed, to produce salads and vegetables, primarily for the restaurant market in Todmorden, where he cultivates not just the produce, but also the relationships with chefs, tempting them with frequent photos of the latest salads, using Instagram. The importance of developing a market is clear, with Nick and Helen also running a regular Saturday market stall in the town, enabling engagement with the public as well as providing another outlet for produce.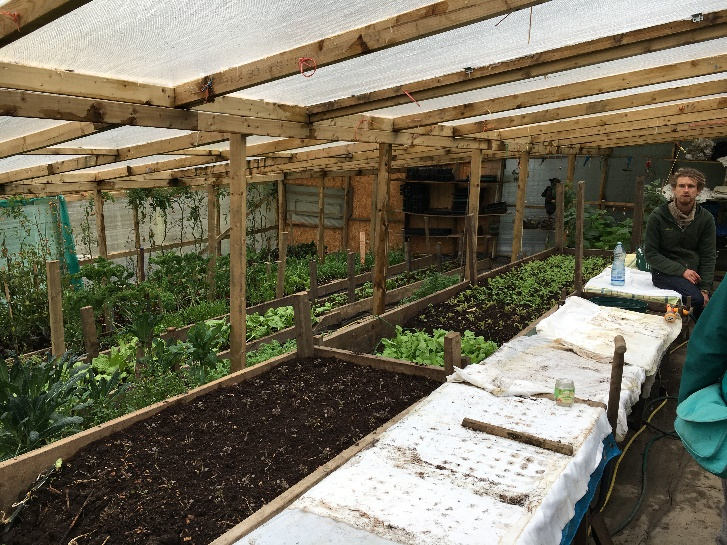 Photo by Tim Shercliff

We finished the trip with a walk around Todmorden, visiting Nick and Helen on their market stall and then visiting the various growing sites that have been established over the last several years, providing food for the locals that want to pick it and re-establishing a connection between people and food. This picture shows the herbs and medicinal plants in the Health Centre car park, one of many examples of planting around the town.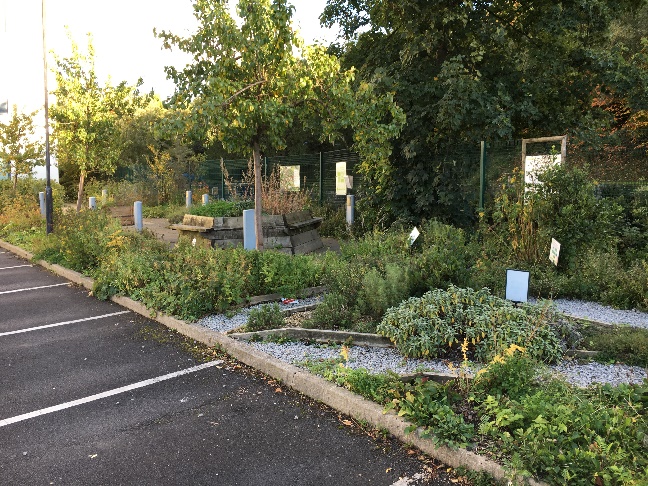 Photo by Tim Shercliff

Many thanks to Freddie for organising, Mike for hosting, Nick for much of the original inspiration and drive and Angus for his continuing guidance and enthusiasm (and for taking us around Todmorden).