East Neuk Seaweed
An update on Jayson Byles and seaweed harvesting in Fife, Scotland
By Krysia Soutar
My September visit to Scotland found me once again visiting St Andrews in Fife. Angus handed me the supplement from The Herald newspaper and, lo and behold, there on the front page was a picture of Jayson Byles. You may remember him from an article I wrote in the 2018 Autumn newsletter [Issue 2] , about harvesting seaweed along the Fife coast. Here is an update on what he has been doing:
Jayson has left the company he was working for and now has his own company ' East Neuk Seaweed'. He runs foraging workshops where you can learn about the benefits of edible seaweeds and how to identify and gather them sustainably, according to the season.
Jayson's native home is New Zealand, he has Maori heritage. His knowledge about seaweed came from a kaumatua, the Maori name for a respected elder, who was very knowledgeable about the coast and seaweed and shared this knowledge with him.
Jayson has informed me that he is against the practice of sea kelp dredging using machines. We currently use a lot of seaweed extracts in our foods, beauty products and pharmaceuticals, so of course there is a vested interest to make money from this, hence the suggested practice of kelp dredging irrespective of the damage this would cause to our beautiful kelp forests and all the life forms which live there. This practice is banned in Scotland at the moment, but companies can continue to ask for permission.
This is another example of pushing short- sighted thinking with destructive consequences to our sea kelp forests. Jayson is an advocate of sustainable seaweed farming in Scotland. " There is another way, we could farm all the kelps we need, leaving alone the wild stocks we currently have, which would allow room for individuals to continue small amounts of wild harvest for personal use", he says.
"If it is done right it is a very benign form of farming and, as a bonus, does not require soil. It could also help to remove carbon from the air and is a much faster crop than trees".
I asked Jayson if he had anything more to report, he kindly sent me a link to the 'Farmerama' podcast, episode 50 on SoundCloud . (This podcast has an added bonus - there is an interview with Charles Massy about Regenerative Agriculture, where he explains how he uses 'biologicals' not 'herbicides' on his farm. )
With my permaculture hat on I would say that what Jayson is doing for a living meets the following permaculture principles:
Working with nature
Using a biological resource
Harvesting so that regeneration occurs
Helping to keep the ocean healthy and therefore the Planet
Producing a local nutrient dense food source
Produces no waste
Right livelihood
Education about a natural resource of which there are many uses currently being researched.
Jayson has sent me lots of information which we can use in future issues and in our courses. Visit East Neuk Seaweed to find further information about his work. See also this short clip from Andy Jackson: Kelp, Kelp, Glorious Kelp.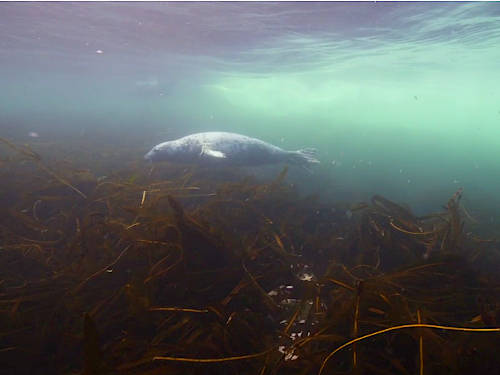 Kelp, glorious kelp

The La'al Burger Bar
Sustainable burgers!
Marie Edwards asked Jayne Birkett, Restaurateur, Shamanic Practitioner and Teacher at The Three Ravens College of Therapeutic Shamanism to share her regenerative and educational enterprise with us…
The La'al Burger Bar opened in June of 2019 and was the result of a few experiences coming together.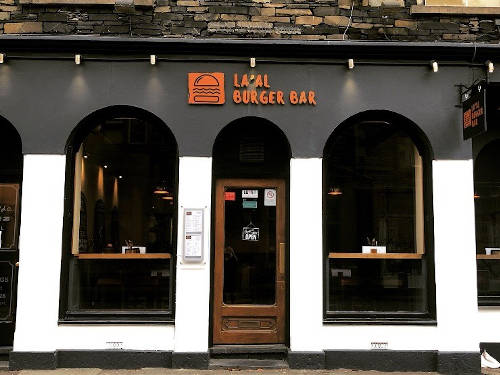 The La'al Burger Bar in Ambleside

Firstly, my husband and I owned a restaurant, bar and guesthouse in Ambleside in the Lake District. Three children later and I realised that working evenings wasn't going to be an option anymore, so I retrained in holistic therapy. I studied homeopathy at weekends, went on to learn about Shamanism and became a practitioner.
This started my personal development and a stronger connection to my environment. I started growing my own food, realising there was a huge difference in taste and freshness between what I was eating from my garden and what I was buying in the supermarket.
A diet change to vegetarian eating over seven years prompted my health to decline. I was advised by a natural nutritionist that I was unable to digest some of the plant proteins in my diet and so eating meat, poultry and fish rather than nuts, seeds and pulses would be a better option for me.
I started to search for a quality meat supplier and found Primal Meats. They supply organic, grass fed, free range beef and lamb, organic free range, foraging chicken and pork and wild game. Again, I couldn't believe the difference in flavour and texture of this meat compared to even the best quality meat in the supermarket. It was like medicine!
My shamanic practice was connecting me more strongly to the land and I was becoming increasingly concerned about climate change and the way our food is grown and produced.
Going back a few years now I saw a TED talk that really sparked my interest. It was by Allan Savory; 'How to green the worlds deserts and reverse climate change.' In summary, two thirds of the planet is desert land and contributing massively to climate change. His method of using large herds of livestock that are bunched and moving, mimic nature in the way they would behave with predators nearby. They trample the land creating a mulch and fertilise it with their dung. The soil begins to hold water, erosion reverses and the land becomes lush again. A simple low-cost method of regenerating the land.
When I contacted Caroline Grinrod at Primal Meats. I discovered that she had trained with The Savory Institute. She was also working with Lakeland farmers to help regenerate their farms from the soil up. You can visit a working farm and learn all about what they are doing. It was a fascinating day.
Animals that are fed on natural pasture with healthy soil and wild plants produce the most delicious tasting, nutrient dense meat. I wanted to let people know.
We decided to change our Italian restaurant in Ambleside and create a burger bar. I wanted to use the lovely food that I was eating at home. It was more expensive and I didn't know how that would translate to the cost of a burger on a plate and if Primal Meats would be able to supply us.
I decided to aim high and work backwards if necessary, but all the smaller organic suppliers have been really great to work with. Caroline has helped with putting together information so customers know about the meat. The bakery produced a great organic brioche bun that doesn't disintegrate and using organic food was not as costly as I expected. After a bit of searching I also discovered fully compostable takeaway packaging!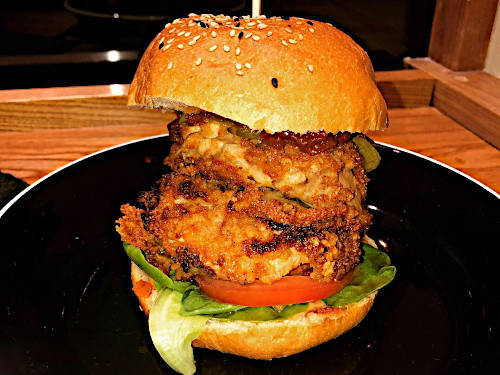 A regenerative burger!

Our eldest son Cameron works as a chef in the kitchen and our daughter Lily manages the front of house and both have helped to make it happen and keep standards high. Customer feedback has been excellent so far!
I hope that we are showing people that really well produced food from sustainable farms does just taste so much better and has less impact on the planet.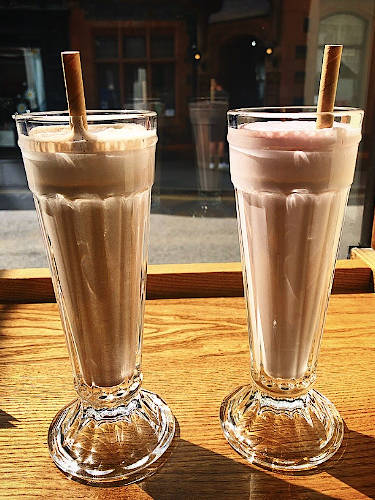 Delicious organic La'al milkshakes

Please note La'al Burger Bar are now closed for the Winter in 2019 as their business in this part of the country tends to be seasonal, but they will be re-opening in early Spring 2020. They hope to see you then!
There is a growing interest in Regenerative Agriculture and Re-wilding projects that include livestock in the system. It's great to see companies like the ones above re-localising the food system with high-quality food. - Ed