Courses
This section gives a guide to forthcoming courses and events, featuring the Permaculture Design Course in Didsbury starting this October and the Northern School "open house" in Hulme on the afternoon and evening of Saturday 22nd September.
Permaculture Design Certificate Course (PDC)
The Northern School of Permaculture delivers, amongst other things, the Permaculture Design Certificate Course (PDC). This is open to anyone who wants to create a sane and safe future for themselves, their friends and their families. The course is based on the pioneering work of Bill Mollison and follows the international curriculum of 72 course hours, as originally designed by Bill himself. Our lead trainer is Angus Soutar who has over 25 years experience of practising and teaching permaculture design. Angus is accredited by the Permaculture Research Institute (PRI).
PDC in Didsbury
Our next PDC will be at The Parsonage in Didsbury, which is convenient for people travelling from Manchester and North Cheshire. Transport links are good and previous participants have often travelled much longer distances. The course starts on 13th October 2018, and follows our "extensive" format of one meeting per month through into 2019. For details see here
Please, book early to avoid disappointment as places at The Parsonage are limited to 12.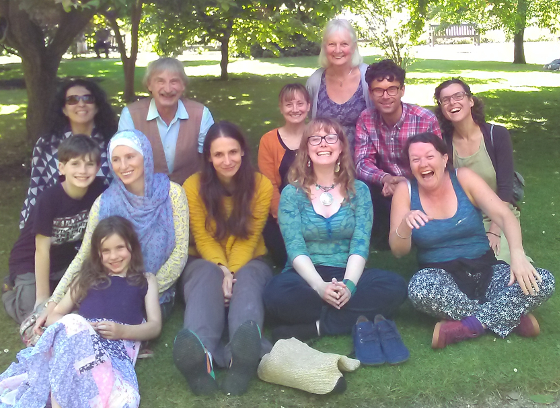 The end of a hard day at the Office?? In the gardens at The Parsonage.

Future certificate courses
PDC's can be taken either as a modular or as an intensive programme. We will publish the dates of up-and-coming courses in future issues and also on the main Northern School website.
Formats include:
one day a month over a 12 month period
over six weekends
intensive in a block of 10-12 days.
All courses are modular, if you miss a day you can take it again on another course without incurring any extra fees.
Introduction to Permaculture Design
The next introduction, run as a course, is on the 13th and 14th of October in Didsbury, more here. This weekend explores the origins of permaculture, its approach to working with Nature, its ethical basis and gives some idea of how to use permaculture design to help improve our lives. The fees for this can be offset against payment for one of our future PDC's, for those who decide to go along that route.
An alternative is to attend one of our design practice events, where you will be able to see permaculture design in action.
Design Practice Events
Like the PDC's, these events are open to all. For newcomers it is an exciting opportunity to learn about what permaculture has to offer. Or, if you are a permaculture design certificate holder, you can contribute to the design of the site and also take the opportunity to get feedback on your existing design work and discuss your projects with the Northern School team.
Earlier this year, we had a very successful series of design events at Brindhurst Farm, near Macclesfield. A series of Open Days is now running at Brindhurst, wherby we are get together to make progress with implementing current plans and continuing with the site design.
The next Open Day at Brindhurst Farm is on Saturday 11th August.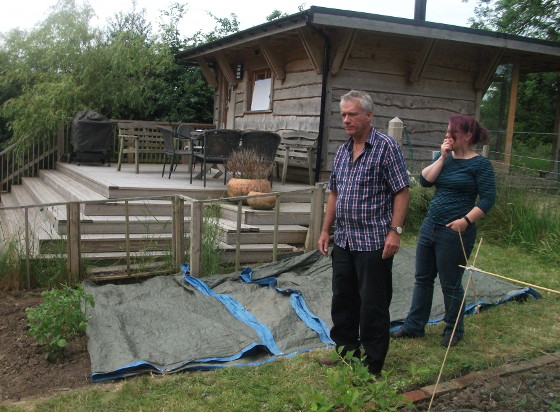 Lawn conversion in progress near the Brindhurst Farm summerhouse.

Northern School Gathering - we pop up, you pop in.
On Saturday 22nd September we will be in Manchester for our "open house" event.
We will be at the Yard Theatre at 41 Old Birley Street in Hulme, where there is much to discuss about urban design.
We expect that the event will function as a Northern School reunion, a reception, a drop-in, with maybe a few talks, celebrations and plenty of discussion on the way forward for permaculture in the Northwest. This is a free event but please register your interest here. Come along, and bring a friend!
The Permaculture Association (Britain) will be in town with their National Convergence and we are hoping that some of the permaculture visitors to Manchester may be dropping in to see us, too.
Get involved
If you haven't been involved with us before, consider attending one of our events or courses..
If you are friends and colleagues, old and new, we invite you to:
help out on one of our courses
drop in on our PDC sessions to catch-up or update your knowledge
help organise an event near you
recommend our courses to your friends and help create some lively and dynamic course groups.