Part 4 - Pioneering in the Community
Chris Gathercole was active with Transition Town Clitheroe and, over succeeding years, he brought about two projects in his home village of Whalley: the Whalley Community Hydro and Whalley Forest Garden. Both of these projects feature on our Northern School list of "must see" visits, to the constant delight of those who make the trip.
Chris has had a long and interesting career devising and supervising the care of people with disabilities. He has not been sitting back in retirement and he has caused these two ground-breaking projects to come to fruition. Although he is now "retired fully" and moved to Wales, when last we spoke he was getting excited about starting a re-wilding project there.
Before he left for Wales, he was interviewed by Angus Soutar.
Part 1 of the interview explains how Chris got involved in community activity and sets the scene for the projects in Whalley. You can read it here. Part 2 covers community activity in general - read it here. Part 3 is here. Now read on.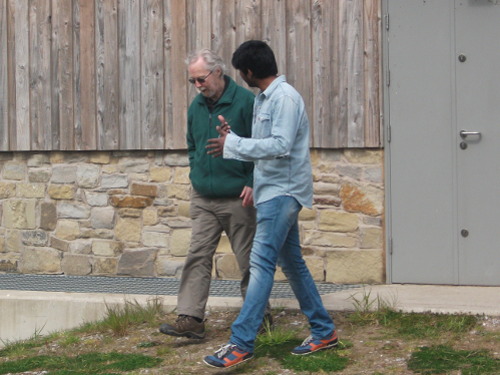 Chris shows visitors round Whalley Hydro

Bosses, Managers, Leaders and Anarchists
Chris: Looking after people needs someone who's experienced, someone who can give advice with a light touch. Someone to help those talented people to see what they can get on with, and then support them as they move on. Now that's an interesting way of looking at things but I was getting to the stage where I had a lot of energy going out. You can't do all the things that you want to do.
Angus: It's all about prioritising. We want to help people but we've only got so much time to devote to that.
Your approach here reminds me of Ernesto Sirolli and his Enterprise Facilitation. He has an outfit in the USA and they are trying to regenerate whole communities. He worked for the EU when he was a young graduate in Africa doing development work, and wrote a book called Ripples from the Zambezi about how useless it all was. Sirolli says in his talks that the idea of the lone entrepreneur is a myth. There is no enterprise where people can make a go of it on their own - like your friend who wants to develop the cookery. Yet we get the idea from our education and training that all we need to be is "motivated". If you are not successful, then you're not motivated! But Sirolli says, "Never try to motivate people" you just help them go where they want to go. And that is still not widely accepted.
We come from a very structured society and a lot of people think that anarchy is just about people letting people do their own thing. Whereas somewhere in the middle, between laissez-faire and dictatorship, I think there is a need for leadership, and serious discussion about that doesn't seem to be popular at the moment.
Chris: Yes, I was just thinking about that because, in the work that I did in the disability field, I had a lot of contact with the Americans and they were several years ahead of us here. It's mainly because they have the money and they could appoint the people, they have enough staff. They have lots of researchers, writers, thinkers and people to go round talking about their work, and so on.
We are getting more to that stage here now, but at that time we didn't have it. Anyway there was a chap there who talked about leadership in the field of disability and he would say, "We can all be leaders, in fact, we should be leaders. Think of yourself as a leader!" But I never thought of myself as a leader, although I do a lot of talking, I'm not terribly outgoing although I do have a lot of acquaintances which is extremely important for networking.
I think I became willing to think of myself as a leader but not in the way of running a big corporation, I'm not that sort of a leader. But in what I am interested in, call it social enterprises, people taking initiative, seeing a need, something that interests you - is deciding to have a crack at it. And then figuring it all out, learning what you can and finding other like-minded people and so on until you get to the point where something happens. I just feel that I have been incredibly fortunate that with my life experience that I've had those experiences. Coming back to "openness", it might be partly because of finding myself in those situations that I had to look for what is going to be helpful here. But also partly because maybe I was that sort of person. I don't know if I always was that sort of person, maybe I was always ferreting things out!
I think with the experience too, it's a bit of both, nature and nurture. Working in psychology, I was getting lectures about nature and nurture but people didn't talk about that then, but they do now. Now we realise it's much more of an interactive thing: it's genetics, it's experience and so on. I did systems thinking course with the OU - a couple of modules - again because I thought that was relevant.
Visualising Complexity
Angus: Systems thinking gives us the connectivity, it allows us to focus on relationships. Then in general terms, we can look at how to make the system viable. Even at this level of building a team to do small projects.
Chris: What are the ways in? Recognising complexity… The part of the course that I found really interesting was called "the rich picture". It was from Peter Checkland at Lancaster University. He was one of the leading thinkers in this country. In America there was Russell Akoff and others. I think it was Checkland that invented the idea of the rich picture, or at least he publicised it. With the disability work that I did, I got associated with John O'Brien from the USA. He would come over here for a couple of weeks at a time and he was a great mentor, a great hero to me.
Rich pictures at The Northern School

One of the things he did was about graphic presentation. He would get a roll of wallpaper out and cover a wall. (We would go to the newspaper printers and ask them for the "end rolls" as it was in those days, I don't know if you can still get them.) He would have his felt-tip markers and he would do little pictures and also some text and he would just stand there just looking at the wall. It was very interesting. There would be a group of maybe five, twenty or fifty people there. And he would pose a question, just pretty vague to begin with and, because he wasn't looking at people - he was standing there doing stuff on the wall, people would start talking, sometimes just into thin air and gradually there was this hubbub developing, with people presenting stuff and saying what their ideas were. He was brilliant at just keeping it ticking over and interpreting what people were saying: to write it down, to summarise it and map it out with mind maps. That sort of graphic activity was brilliant. I could never do it myself adequately, but we came across a few other people who were influenced by John who managed to learn how to do that here. It is brilliant.
Angus: I find it interesting when I go to Lancaster University and I ask people about Peter Checkland and they don't know who he is. I see little evidence of his work being continued. Where are all the rich pictures of today? Where is the "soft systems" approach? It's still not part of the culture yet.
I'm trying to relate our experience on the ground, with the day-to-day tasks of dealing with people, and how it all connects to a bigger picture of things. I do feel that the problems that we are facing when getting local projects going are inhibited by a culture of busy-ness, but there are probably enough people out there who are open to the ideas, at least.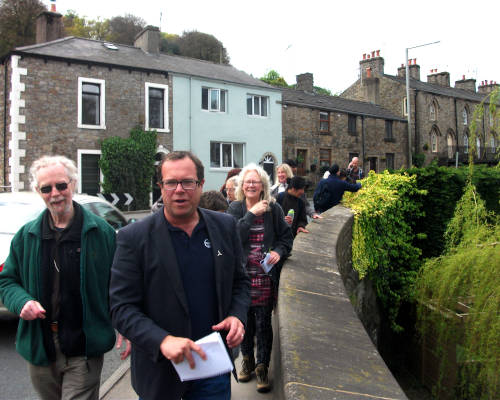 On the eco-tourist trail at Whalley

---
Whalley Community Hydro opened in 2014 generating electricity from the flow of the Lancashire Carder as it falls over the weir near Whalley Abbey. At outputs of up to 100kW, the project was managed in its entirety by local people, raising the required finance of around £750,000 through a community share issue.
In future issues, Angus and Chris discuss community activity further.