Ahoy! We're still working, but we're remote now ...
There is a general principle that is upheld at The Northern School: "When the going gets tough, the tough get going". Earlier in the year, we accepted the situation and quickly made new plans for 2020. Many people thought , "it will be over by Christmas". But we continued to prepare for an uncertain future. We allowed the pandemic to test our "systems" approach. Our teaching team and our technical wizards have responded admirably.
Our courses continue through the excellent Zoom portal, despite the regular occurrences of "your internet connection is unstable".
Over a long engagement with permaculture teaching, Angus has taught in derelict farms, front rooms, back gardens, yurts, gazebos, marquees, log cabins; spending his off-duty time in tents, cowsheds, bivouacs and caves. However, we heard him say recently "Teaching remotely has been the most difficult challenge of my career." And later, "I think my connection to my brain has become unstable".
We have overcome the challenge of transferring face-to-face courses to remote working. It's not the same, but it is effective. The results are coming through and standards remain high. We have seen many excellent end-of-course presentations that take advantage of the new digital resources, while remaining reassuringly low-tech in the hands of the presenters "at the other end of the line". But we should not be complacent - we must still look for opportunities to keep the show up and running. Our work is too important, time for preparation is too short. Our response is to continue to deliver remotely: we are well into our new "live, on-line" PDC. This is running happily while we await safe venues where we can resume our usual course format.
Asmelash visits ...
| | |
| --- | --- |
| | Asmelash Dagne has finally got home to see his family. He sent a brief report from Southern Ethiopia where he is learning a lot from the locals. "False banana is miracle plant for food, fodder, holding the water for soil, controls erosion, provides a wind-break and the root gives a yield in the hungry season...." |
| | |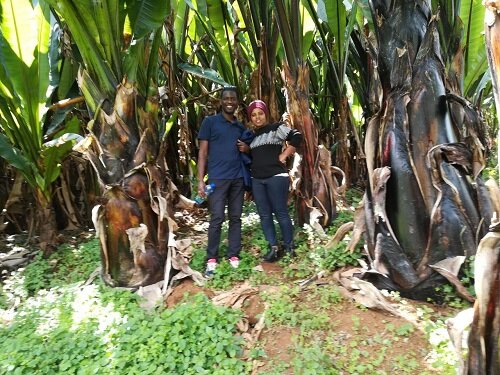 :---:

News in Brief
David has written in from Warland Farm where he and Monica are both well. We hope to hear more from David about the new Warland Farm Community Charter.
Eugenia Pinzar has announced the arrival of George, who appeared on the scene in early October, to general acclaim from us all.
Freddie Cannon has been in touch and he would like to start some discussions on "what comes next" following the virus.
Zoe Rozar is still very much active in Mauritius and we will get a report once she and her team have the time!
From the archive
PDC with Rod Everett in the Great Outdoors. Happier times? It was great to work with Rod and Mil Millichap when they ran their PDC's at The Native Oak Group in the Isle of Man. Angus sends these pictures from 2008.
If you were there and want to see more, contact us.
Where are they now? Let us know at Northern Edge!
---
Send in reports: projects, events, updates
We invite you to send in reports and articles for publication, no matter how short. When you read through Northern Edge, remember that you are a producer as well as a consumer! You can contact us here