Pioneering with Chris Gathercole
On 2 March 2019, Angus and Krysia caught up with Chris Gathercole at his home in the village of Whalley in the Ribble Valley, just before Chris and Doreen were due to move to North Wales. Chris has been active in Transition Town Clitheroe and, following that, over the last several years he has brought to fruition projects in his home village of Whalley: the Whalley Community Hydro and Whalley Forest Garden. Both of these projects feature on our Northern School list of "must see" visits, to the constant delight of those who make the trip.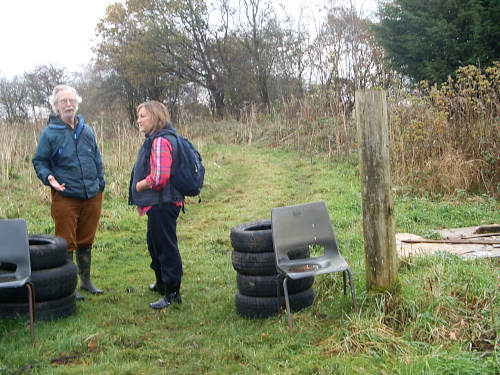 Chris and Krysia at site for Whalley Forest Garden, October 2011

Chris has had a long and interesting career devising and supervising the care of people with disabilities. He has not been sitting back in retirement and he has caused two ground-breaking projects to come to fruition in his home village.
Whalley Forest Garden started in the summer of 2011 when Chris and Doreen had a good look at the site. A featureless and degraded field is now a wonderful wild area with rapidly-maturing fruit trees.
Whalley Community Hydro opened in 2014 generating electricity from the flow of the Lancashire Calder as it falls over the weir near Whalley Abbey. At outputs of up to 100kW, the project was managed in its entirety by local people, raising the required finance of around £750,000 through a community share issue.
Both these projects feature in our interview with Chris. In this issue, he reflects on how such projects get started. In future issues, we discuss community activity in general, and Chris will cover more specific aspects of the two projects.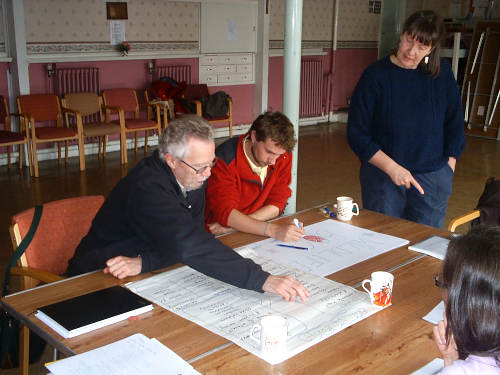 At the PDC for Transition Town Clitheroe, 2010

A Place For It To Begin
Angus: Chris, we first met when you organised the Permaculture Design Course in 2010 for Transition Town Clitheroe, but I know that you had been involved in many interesting things before then. You seem to have had a parallel career in making good things happen and I wondered what your motivation was for that.
Chris: With the environmental stuff, I think my interest probably started in the 1970s when we lived at Conwy in Wales between about 1971 and 1978 (we came to Whalley about 1978). While we were there, they opened the Centre for Alternative technology at Machynlleth. When we first visited, it was just a slate quarry, nothing much else. We've been back every five years since then and it is just a delight to see all the developments and to keep track of it all, to keep learning with them and accessing their resources. But we joined Friends of the Earth about that time as well.
I remember we did a big clean-up in a local park. People had left a terrible mess. We organised a Saturday "do" and loads of people came out to help and we cleaned all that up.
Angus: It sounds like one of those village things…
Chris: Yes. This was probably where we started. Then other things came along when we moved to Whalley. In the early 2000's, I started a Freecycle group and that became Freegle after a while. Both of those things are still going although I am not involved in them directly myself now. Then Transition Towns came along about 2009 and we were invited to a bit of a "do" in Accrington - they did Green Days and they had stalls with all sorts of green groups there.
Angus: I think that might have been the Accrington PROSPECTS Foundation that organised that – we used to go to their events and it was an interesting time there. It's quite possible that we met each other at one of those.
Chris: On this particular day, my colleague and I were just standing around afterwards as they were all moving out and we started to talk about Transition Towns. She said "we ought to do something about this", and I said "of course we should". She was a very active person and so we got moving on that, getting Transition Clitheroe going. Unfortunately that has faded now and is defunct really. Which raises an interesting point about localities, The sort of people that there are around and who might be interested in things: there's places like Glastonbury, Todmorden, Hebden Bridge and Totnes where people get involved. Also, where we are moving to in Gwynedd, we have discovered, there are loads of co-operative activities there, it's very, very interesting and I'm looking forward to being there.
It's people coming together to discuss how we are thinking about things where we live. I got taken by the Transition idea, I think its success depends on "Openness". In the field of psychology, there's the idea of "The Big Five" which is very popular now. This suggests that are five dimensions to personality, such as introversion-extroversion, and one of them is about openness to experience. "Openness" does strike me as very significant, that you have a range of openness to new thinking, to new ideas and so on. Some people are, if you like, very traditional: they've got their fixed ideas. You don't want to try to change that, because it is particularly difficult to persuade them to get interested in anything new. At the other end, people are very open to new ideas.
When I came across this I realised that I am interested in novel stuff, but I always want to check it out, to see how sound it is and I have an interest in what you would call a broadly scientific approach. What's the basis? What evidence? Is there good evidence for this or not? I think if you go too far off the scale with this Openness, you end up with thinking that to me is very wacky.
Angus: This reminds me of an interesting piece of work about innovation and the way that things take hold in society. This is the "Diffusion of Innovations" published by Everett Rogers in the early 1960s. At that stage, it was about the adoption of new products, but that has now been extended to the adoption of new ideas. What you have just said strikes a bell with me - the very early people who get involved are the "innovators", but I put you in with the "early adopters", Chris. We watch all the innovators, nearly everybody thinks that they are crazy, and I think that they might be crazy but they might be onto something. At the start, I am never quite sure which it is. It's only when we see some evidence of progress that we can make sense of what they are doing and then we might adopt it ourselves and take the next step. So this ripples out through society.
Chris: So, I was taken, and I am very taken, by the Transition idea. To be honest, I have not kept up with it over the last few years because I have been busy with the projects, especially the Community Hydro which took up a lot of my time. But it was interesting because the Transition Clitheroe group was quite a range of people. The networking was very important and we got together with the people, we had meetings. But it was a bit like Friends of the Earth where people would sit around talking - it's never a bad thing to talk - but actually getting down to doing projects, for it all to lead to something, is another matter.
The trouble is with the Transition thing is that if people go off and do things then they haven't got the energy and at the time to stay with the central group. They talk about a "doughnut" where people move out and away and leave a hole in the middle. After a year or two I got involved setting up the Hydro and then the Forest Garden and of course that was interesting. I thought we were getting somewhere and I wanted to be doing things.
Again, I don't want to knock talking because you have to clarify ideas and values and all of these things, but it can't go on forever. Eventually I want to get down to do things. I think people felt that, and Transition did carry on a bit after I left. But then my colleague, who was the other live-wire in the group, found her life getting very complicated with job and family in all sorts of ways and she wasn't able to continue. But Transition led to the Hydro .
Transition Towns have a number of topics. Food production is usually top of the list, that's what nearly everyone is interested in - allotments, orchards and forest gardens. Another big topic is energy and I thought that's a bit too technical for me. I don't have the technical knowledge. But eventually we realised that we have got the power of the river here in Whalley and in a conversation we said "why don't we do it?" And the answer was, "yes let's go for it". In fact I think now I've got to the stage where I'm reasonably knowledgeable about the energy side and even if I know what I don't know I know where to go to get good guidance.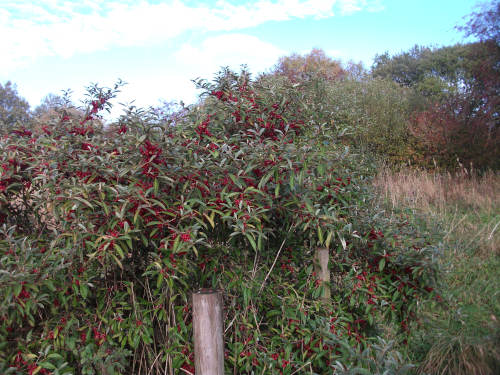 "Autumn Olive" at Whalley Forest Garden

Locality Of Place
Angus: This is what intrigues me about the locality. The projects that you have started successfully are here in the village at Whalley. Whereas your Transition activity was in the nearby town of Clitheroe. Are there any similar projects happening there?
Chris: If people get their finger out and get on with it there is superb potential for a Hydro with three times the output of Whalley at Waddow [on the river Ribble]. That would be fantastic. We've had three Permaculture Design courses that have run in Clitheroe and I'm delighted with that but we've yet to see the results in projects there.
Angus: It's often a slow burn, we sometimes see the results years later...
Chris: I touched earlier on this thing about Openness and to finish on that: there is a term in biology called "assortative mating" whereby partners come together because they have some common interest. They share something and I think that's what happens with places like Hebden Bridge or Glastonbury: someone interesting went there, way back, and then it becomes known and lots of people move there. It's like Rob Hopkins going to Totnes, lots of people have moved in there with a shared interest.
This area, the Ribble Valley, is very wealthy - that's not to say there aren't pockets of low income - fuel poverty in the rural areas is higher than average – but most people are busy beavering away making money, buying their big houses, installing their new kitchens, doing up their extensions and so on. They are getting their new Audis and all of that consumerism; that is a very strong sense around here. There are people that we would call "like-minded", but to explore and activate the networks and get something going is a lot of work, it takes a lot of energy. Whereas I think in these other places like Hebden Bridge, Todmorden and so on there are more activists. And something like Incredible Edible Todmorden - it's not a huge number of people when you look at it, it starts with two or three people who are the real activists.
Angus: But now there are Incredible Edibles is all over the world and again there is something about leadership in all this, and requisite diversity. And now Todmorden has Incredible Farm, and the asset transfer of the Community College to local activists.
Chris: And gradually no doubt if those people can stick it out for the long-term then you gradually get other people coming in getting hooked and making commitments. It's all about commitment really.
Angus: And they need to stick it out, there has been a lot of antagonism towards the new Incredible Farm near Todmorden. I'm wondering about processing this in terms of the Openness you were talking about. It's the same thing with opposition to the board at the new Community Learning Centre in Todmorden, I guess because they have to change the way that it will operate. There is often opposition to new projects when they do get going. Did you experience much of this in Whalley?
Chris: No, not really. With the Hydro we were always afraid of the anglers because we heard that at Settle there was an absolute outcry from the anglers. But we didn't have that here. The chairman of the coordination of the various local angling groups was dead against it, but in the end we didn't have a problem. This was probably because with the Calder, although way back in pre-industrial times it was a terrific salmon river, chemical pollution had completely wiped out the salmon until very recently. Salmon are coming back now but that is a long-term thing, so it's not really a game river as compared with the Hodder and the Ribble. We had one or two people who didn't like the appearance of the plant house at the weir, but most people, if they knew about it, thought it was a good idea. With the Forest Garden, we have never had any opposition because it is so isolated. The only people who go up there are dog walkers and occasionally horse-riders. And it's beyond the trees of that nice little band of long-established mature native British trees.
Angus: And it's protected by the main road and the railway line. A good choice of site.
Chris: Not so much a choice, it was there, so we thought "let's use it".
| | |
| --- | --- |
| | |
| Whalley Forest Garden site, November 2010 | Whalley Forest Garden site, October 2018 |

To be continued ...