Incredible People
Visit to Incredible Farm
Angus Soutar
"Climate Change" is currently more of a political "hot potato" than soil erosion and landscape degradation. But soil loss and its subsequent regeneration can be more evident, and much less contentious, than the debates about Climate Change. In permaculture, we put soils near the top of our agenda. It's good to see projects where the focus is on landscape regeneration and that good design at a more practical level will automatically begin to address the climate issues that are currently vexing a good proportion of the populace.
And so, a fairly large group of us from the Northern School enjoyed a recent visit to Incredible Farm, near Todmorden, to see how our marginal uplands can be converted quickly to supply local food markets. Food and farming pioneers Nick and Mike gave us some in-depth insights into what it takes to create a productive environment that can both feed us and support the natural world around us. Our extended tour turned out to be a "tour de force".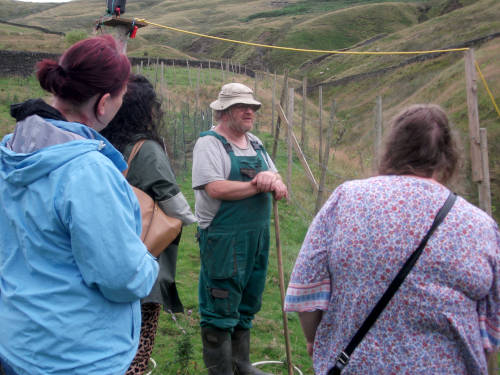 Discussing the landscape with Nick Green

Discussions with Nick included the impact of rabbits on steep slopes and how livestock selection and practices can support afforestation. We discussed subjects as diverse as water in the landscape and the impact of legislation on innovative land projects, all firmly anchored to experiences on the farm.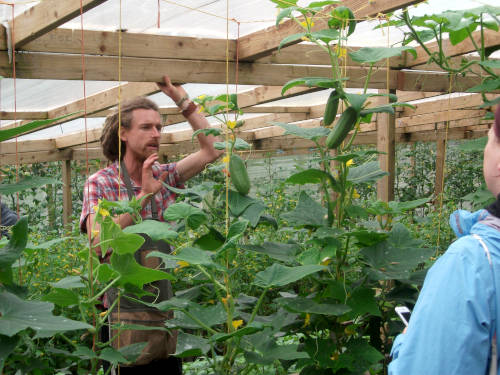 Mike answers questions in the growing house

Inside the well-designed growing house, Mike provided us with a running commentary on the benefits of the permaculture design approach in its many detailed applications, such as the use of slope to promote ergonomic working and nutrient cycling. He demonstrated how to integrate livestock and wildlife with the vegetable growing, enhancing the yields and making good use of available energy. Mike also gave us the benefit of his hard-won growing experience with lots of good advice about plants and composting for us information-hungry visitors.
During our visit, we also learned a lot about the history of the site. It's good to see that the work of Treesponsibility is beginning to have a lasting impact on the landscape and is bringing benefits that were unforseen at the time of planting.
All in all, another Grand Day Out. Thanks to Nicola Siddons for organising the visit.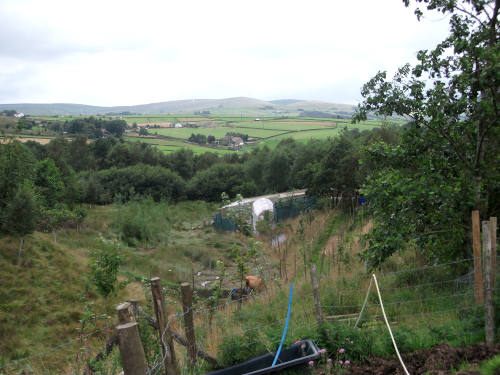 Looking over Incredible Farm towards the south-west

---
Harvest time at The Parsonage
Angus Soutar
July saw a fine crop of graduates from this year's course at The Parsonage. (We had so many on this course that we are looking forward to an additional harvest later this year.) Congratulations to all on some fine work. It makes us all very happy to see our work come to fruition.
---
Permaculture and Macrobiotics
Krysia Soutar
" It is a very odd thing – as odd as can be That whatever Miss T eats turns into Miss T ". Walter de la Mare
Christopher Wilhelm Hufeland, a German physician, wrote a book called "Macrobiotik – The Art of prolonging Human Life" in 1796. "Macrotiotics" comes from the word makrobios, the Greek term for " Long Life' and "Great Life". Hippocrates, the Father of modern medicine, first coined the word. His famous statement," let food be thy medicine, and thy medicine food" is now backed up by scientific research.
The current environmental crisis is also reflected in the human health crisis we see in our world every day. The medical approach is just a sticking plaster, it is a monoculture linked to the pharmaceutical Industry, really it should be called a 'sickness service'. A permaculture design for a "Natural Health Service" would include the use of plants and food as medicine, as well as other forms of healing.
There are many interpretations of "Macrobiotics" and many misunderstandings. Macrobiotics is not a diet it is a way of life. It teaches us that the quality of our daily food choices and lifestyle. can help us to stay healthy in body, mind and spirit. The study of macrobiotics covers many subjects, it is truly exciting and so relevant in this troubled time.
My old friend Albert Killeen once said "we all need a datum to follow, something which brings balance to our life". For me there is a truth in this field of study which reaches deep inside, it just makes common sense, something which is lacking in our modern way of life. In his book ' Practically Macrobiotic" Keith Mitchell says; "Basically it is a practical way of selecting, preparing, cooking and eating food – based on the ancient and beautiful concept of the Tao. Tao is the pursuit of the natural way of heaven and earth – the order of the universe: the Great Whole, containing all – change." Permaculture shares this ancient philosophy, working with the underlying order of Nature.
I just want to share with you my recent journey in the study of Macrobiotics. For a period of about ten months from last year I have been travelling up and down on the train to Haywards Heath in East Sussex, even overcoming my fear of the London Underground, just to meet and study with two amazing teachers, David and Nicola McCarthy.
They both have a passion for sharing their knowledge about macrobiotics. They are experienced teachers in the theory and art of cooking, using the ancient guiding principles of yin and yang and the understanding of the five transformations of energy. They are highly entertaining and I can only say it was well worth the journey.
David originally worked in the pharmaceutical industry, but he turned to more natural ways of healing when his son developed a brain tumour and modern medicine was unable to help. He studied the theory and practice of this fascinating subject with his wife Nicola at the European International Kushi Institute in Amsterdam.
Nicola turned to macrobiotics to overcome serious health issues. She met David and they have studied and travelled together teaching this subject all over the world. They have now moved to live in Ibiza, where they are carrying on teaching and living their dream. We share a passion for local and seasonal food with them.
My own personal interest in this subject began in the late 1980's, I was living in London working as a nurse teacher in a big teaching hospital. I had always had an interest in helping people recover from illness, as a little girl I had all my dollies lined up and I used to feed them porridge. Even at this young age I was aware of the importance of food.
Along comes my future husband, Angus, I was introduced to a whole new world when I came across some of his books by George Oshawa and Michio Kushi, who were weaving ancient and modern practices together. In them I found a new understanding about food and healing and much, much more. I started to visit the East West Centre in London to study macrobiotic philosophy, cookery, shiatsu and Do- In, a form of self - shiatsu. It was great, I loved it all.
Sadly, we left London and I lost the impetus to continue my studies. As Michio Kushi once said in a class I attended, " One day you will remember what I have said, it will never leave you once you have understood".
David and Nicola are carrying on teaching the Kushi Institute courses (an in-depth understanding of macrobiotics) in Spain as they are now living in Ibiza. You can find out more about them here. I studied with them at their home in East Sussex. We had a good group and mix of people, and the food was wonderful.
Since my course I have been very busy redecorating my kitchen, clearing up a lot of clutter and trying hard to bring more balance and harmony into my life. I aim to improve my cookery skills, and carry on with my studies of this wonderful philosophy and practice which sits so well with our efforts to reintroduce healthy, local food and plant medicine. I aim to share whatever knowledge I can with the Northern School permaculture community. I feel very grateful to have found great teachers of both permaculture and macrobiotics, what a gift!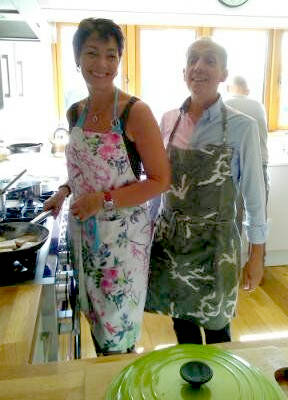 Nicola and David McCarthy

---
Tell us what's happening
Keep in touch! Please write in with any news and photos that you may have. We'd really like to hear from you!