Design course "on the ground" near Todmorden
The revival of our Permaculture Design Certificate course continues this Autumn when we will be working in partnership with Warland Farm to stage the "extensive" version of our course
As usual, the course is open to all. It is suitable for busy people in the locality and in particular for artisans and those interested in developing livelihoods and enterprises, either with family or from a community base. Throughout, there is an emphasis on learning from Nature to help us deal with the complexity and uncertainty surrounding our everyday lives.
Warland farm is on the border of Lancashire and Yorkshire near Todmorden. The Farm supports a growing collective of artisans who are working with a steeply sloping hillside typical of the Upper Calder valley.
Course is led by Angus Soutar who is an internationally certificated permaculture tutor.
The course starts on October 12th 2021 and more details are provided on our website.
Ecological Gardening Workshops
The eco-gardening workshops are back by popular demand. The programme focuses on the application of permaculture principles to create ecological gardens. You will gain experience and confidence in regenerative gardening practice.
The workshops take place at a riverside, one-acre permaculture garden at Broadbottom, near Glossop. It will be a safe environment and most of the learning and activities will take place outdoors in a sheltered area.
You can attend the eco-gardening essential training programme as a foundation series in ecological gardening practice or as stand alone workshops. The programme is suitable for students who are new to permaculture as well as students who have completed the Permaculture Design Course.
In the current programme, you can learn how to get started with edible polycultures, how to embed self-watering systems in the garden that work for you and your plants, how to select the ideal composting systems for your specific needs and site and how to structure permanent planting schemes in your garden with perennial plants.
Polycultures for Autumn and Winter 11.09.2021 - The temperate climate and its short growing season challenge the cultivation of edible crops during the cold season. Nonetheless, with appropriate knowledge and planning we can still grow plenty at this time of the year. First, we will explore the secrets of polycultures by learning the underlying principles that create successful communities of plants, and how you can use those patterns to combine annual, and perennial, edible plants to mitigate the 'hungry gap'. Read more and booking information
The Art of Composting 18.09.2021 - Unlock the mysteries of soil to design efficient polycultures. Soil is the foundation of the garden. How would you design efficient composting systems that fit your site's needs, your lifestyle and available time and resources? If you want answers, you will find them on this course. Read more and booking information
Self-watering Systems 9.10.2021 - Learn the theory and practice of efficient self-watering systems for any size garden. Drought proof your garden and go on holidays knowing your plants shall be well watered. Conversely, learn how these same methods can prevent soil erosion and flooding during rainy seasons. Read more and booking information
Gardening with Perennials 16.10.2021 - Explore how to apply the ecological patterns found in forests to design permanent edible and medicinal cultivated habitats. These patterns of cultivation can be applied to any scale, from a patio or balcony garden to any acreage, although the focus of this workshop will be on urban settings, ranging from private to community garden spaces. Read more and book
Polycultures for Spring and Summer 12.02.2022 - From window box to market garden you will learn how to design effortless planting schemes that nurture soil, wildlife and people. First we will explore the secrets of polycultures by learning the underlying principles that create successful communities of plants, and how you can use those patterns to design abundant edible and medicinal polycultures during the growing season. Read more and booking information
More about the Permaculture Design Certificate Course (PDC)
The Northern School of Permaculture delivers, amongst other things, the Permaculture Design Certificate Course (PDC). This is open to anyone who wants to create a sane and safe future for themselves, their friends and their families. The course is based on the pioneering work of Bill Mollison and follows the international curriculum of 72 course hours, as originally designed by Bill himself. Our lead trainer is Angus Soutar who now has 30 years experience of practising and teaching permaculture design. Angus is accredited internationally by the Permaculture Research Institute (PRI).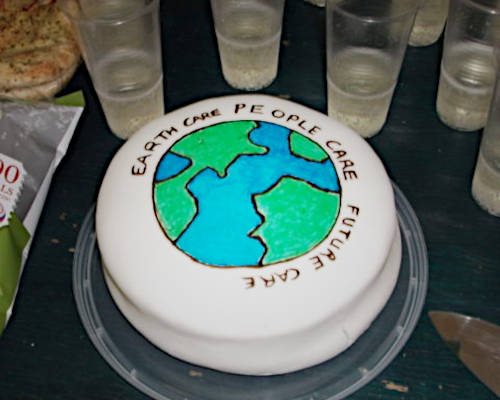 The ethics of caring and sharing

Staying connected
If you are a graduate of one of our design courses, you can link up with fellow graduates and the core team on our Alumni Telegram Group. You can find more details in the "What's On" of spring this year.
---
Get involved!
If you haven't studied with us before, consider attending one of our events or courses.
If you are friends and colleagues, old and new, we invite you to:
help out on one of our courses or drop in on our PDC sessions to catch-up or update your knowledge - contact Angus on Telegram @angssoutar or via our staff contact page
help organise an event near you - perhaps a local visit or even one of our Design Parctice Events (see previous "Whats On") - contact Teresa on Telegram @teresa_pereira or via our staff contact page
recommend our courses to your friends and help create some lively and dynamic course groups.