Internment by internet
Angus Soutar
At the time of writing, everything is opening up again after the corona-restrictions and the sun is shining outside. But I find that I am still stuck in front of a screen at Northern School HQ. The pandemic restrictions have forced us to stay at home, travel less and perhaps become less sociable. So,there has been no room for excuses over the past few months. As Billy Connolly used to shout at us: "Get tae yer work!"
We keep the School going via dodgy internet connections and in in the face of domestic disruption at the other end of the line (kids, cats, delivery drivers). We "Keep Battling On", as Winston Churchill would say (or words to that effect). As a result, I can list some of our recent successes, although, as with many projects, maintenance and development are taking up a lot of time. Work continues behind the scenes to keep up with the advances of internet technology. It is like attempting to hit an ever-moving target. One day we will write something about it...
I fear that it is the internet itself that is now my prison camp. In my rare moments of idleness, I begin to worry about how dependent we all are on it. But there is no time for gloom at the moment, most of us would have been lost without the technology during our internment. So far, Zoom technology has been very supportive of our efforts, and we can now count those on-line successes.
On-line courses are not everybody's cup of tea (no, me neither) but there are some people, particularly those more isolated, who can benefit. Our first "proper" online course is over half way through. But everyone seems to be enjoying the experience. In addition, several brave souls have now graduated from the "converted" courses that we staged last year. The pandemic disruption lingers on, so certificates and presentations are in short supply. We are working to remedy this.
I hope that our course teams will benefit from recent experiences once we return to the classroom, just as athletes come down from training in the Kenyan mountains, raring to go in the richer air at sea-level.
We have also hosted a successful series of evening talks. The series "Onward into the Darkness" looked at the challenges we face both now and in the years ahead of us. Many lively discussions took place as a result. In the words of the old theatre impresarios, "This one will run and run!".
Some highlights of the season:
---
Implementing the site design at Třemešek
Oskava - Šumperk, Czech Republic
Update from Jakub Drew
Spring is knocking on our door and we are moving our attention to outdoors projects. We have tried to make ourselves as comfortable as we can over the winter.
We carry on with groundwork, building the geothermal battery greenhouse, making progress with the hugelculture beds. I am at the testing stage of making charcoal (my set-up seems to work!). But hey, we're enjoying the ride...
| | |
| --- | --- |
| | |
| Firing up the biochar | Burning through the night |
| | |
Biochar is charcoal that is produced by pyrolysis of biomass in the absence of oxygen; it is used as a soil ameliorant for both carbon sequestration and soil health benefits. Biochar is a stable solid that is rich in carbon and can endure in soil for thousands of years.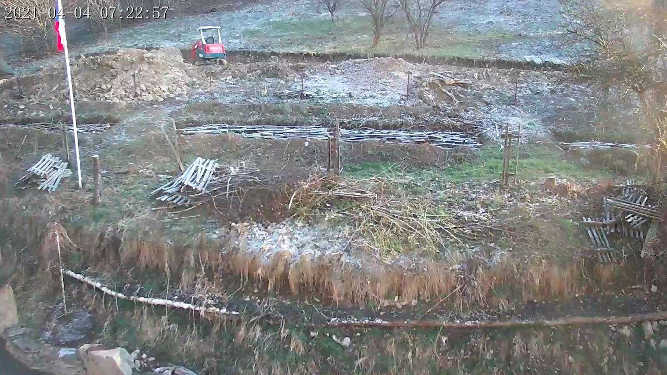 Our future vegetable garden...

Earthworks to re-shape the site according to the design that I started at the end of my PDC.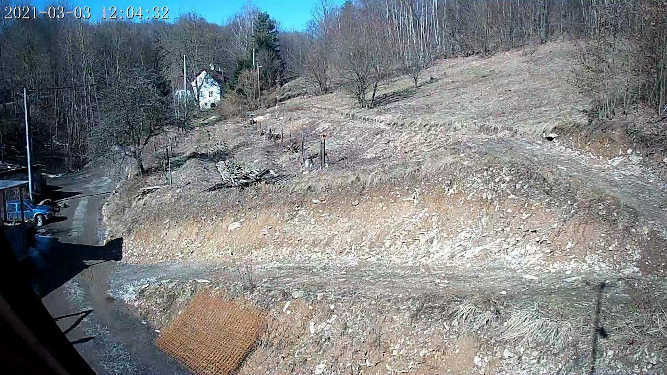 ...with plans for 3 hugelculture beds

| | |
| --- | --- |
| | |
| | |
| A new road into our property | We made a pocket from small trees and bushes |
| | and filled it with earth to create a wider access-way |
| | |
We have also put a flag up on our concreted proper base for the weather station. Loads being done, but LOADS is still needed to be done.
Next month we're going to get pigs and chickens, so other good ones are on the way..
Jakub Drew attended the PDC at the Parsonage a couple of years back. he secured his new property towards the end of the course, missing the last day as he was tied up with business in Czech. On his return, he visited Angus in November 2019 to present and discuss the site design and then immediately relocated with his family to their new home. It's always good to hear from our graduates! (Ed)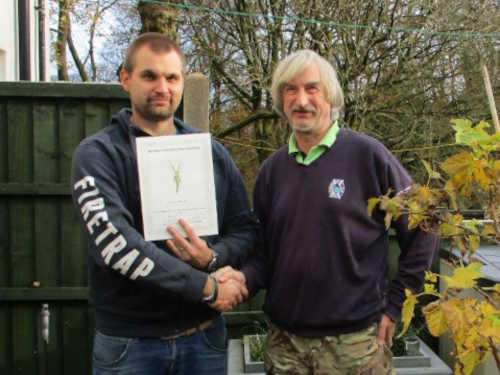 ...and not a computer in sight

---
News in brief
Phil Duncan has been in touch to say that he appreciates keeping in contact with us after all this time (nearly ten years now). He is continuing to innovate with his allotment and we hope to hear more about that in due course.
Jack Wright was on the same course as Phil (Prestwich, 2012) and is currently preparing the old school buildings at Manchester Road Community Centre, Bury for our next in-person PDC.
Mike Kelly was also on that course (remembered as the year that Manchester City returned to winning ways). Mike is also doing sterling work, helping Jack with the preparations at the Mancheseter Road Centre.
Ana Carranza has been in touch after a break of about 20 years. She was one of the designers on the original Manchester PDC with Rob Squires, Jenny o'Reilly and myself that led the way to the Leaf Street Community Garden in Hulme. She in now in Spain and is keeping in touch via our Telegram group for our "Alumni" contact us if you don't know about this.
Maureen Boustred is still reporting in from the permaculture deserts of Bournemouth. We hope to have more of her memoirs of more productive horticultures soon.
---
Send in reports: projects, events, updates
We invite you to send in reports and articles for publication, no matter how short. When you read through Northern Edge, remember that you are a producer as well as a consumer! You can contact us here
---