Permaculture Design Course in Bury
Our next Permaculture Design Course (PDC) will start soon at the Manchester Road Community Centre, an historic building situated between Prestwich and Bury, which is convenient for people travelling from Manchester, Rossendale, East Lancashire, Yorkshire and Liverpool. Transport links are good and previous participants have often travelled long distances to get there. The course starts on Saturday 16 February 2019, and follows our "extensive" format of one meeting per month through into 2019. For details see here.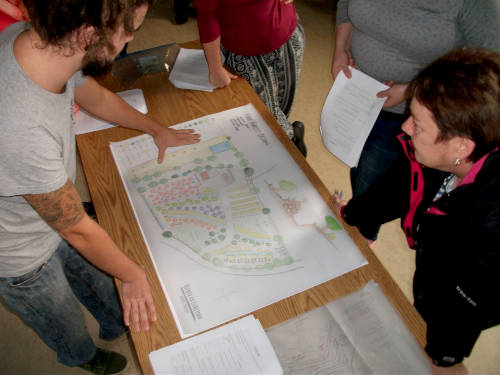 Design discussions at Manchester Road

Tell your friends! Poverty need not prevent people from attending. Payment plans may be negotiated with those who have difficulty finding the course fee. For more information, see more on our website.
PDC at The Parsonage - Up and Running!
We have a good turnout for this year's PDC at the Parsonage in Didsbury, with people from a wide range of interests and backgrounds. The room at The Parsonage is often full of lively convers and lots of useful information is exchanged in the breaks. Peter Fearon joined us recently to talk about his designs for Quinta do Estralinha.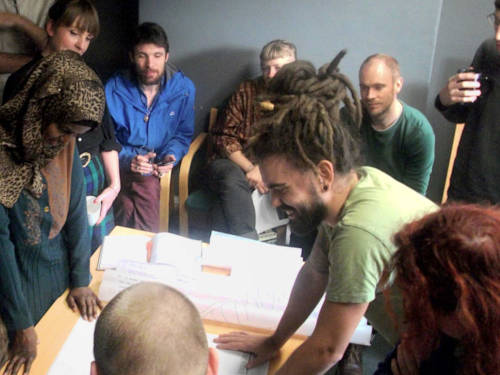 Peter Fearon leads a design session at The Parsonage

Spring get-together: advance notice
Following the success of our Christmas Party, we will hold another social event in Manchester on Saturday 23rd March 2019. Details will be published soon on our website. We are looking for venues outside Manchester to hold these events so please let us have your suggestions.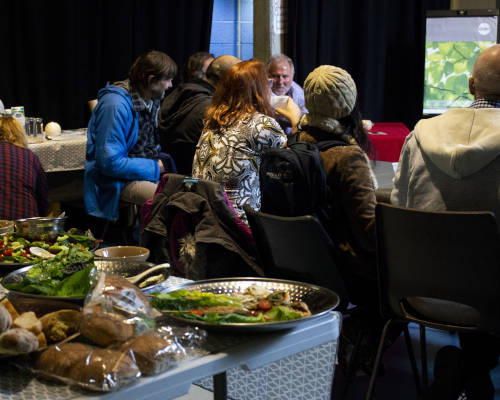 Lively discussions at our recent event

More about the Permaculture Design Certificate Course (PDC)
The Northern School of Permaculture delivers, amongst other things, the Permaculture Design Certificate Course (PDC). This is open to anyone who wants to create a sane and safe future for themselves, their friends and their families. The course is based on the pioneering work of Bill Mollison and follows the international curriculum of 72 course hours, as originally designed by Bill himself. Our lead trainer is Angus Soutar who has over 25 years experience of practising and teaching permaculture design. Angus is accredited internationally by the Permaculture Research Institute (PRI).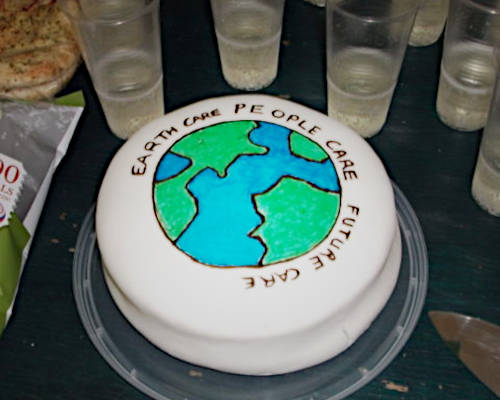 The ethics of caring and sharing

Design Practice Events
Like the PDC's, these events are open to all. For newcomers it is an exciting opportunity to learn about what permaculture has to offer. Or, if you are a permaculture design certificate holder, you can contribute to the design of the site and also take the opportunity to get feedback on your existing design work and discuss your projects with the Northern School team.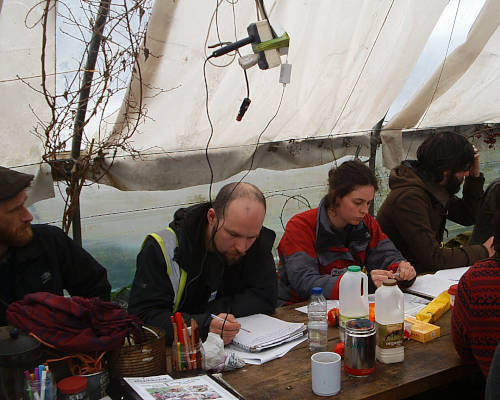 Design event at Incredible Farm (Walsden site)

Earlier this year, we had a very successful series of design events at Brindhurst Farm, near Macclesfield. A series of Open Days is now running at Brindhurst. These are very sociable get-togethers, making progress with implementing current plans and continuing with the site design.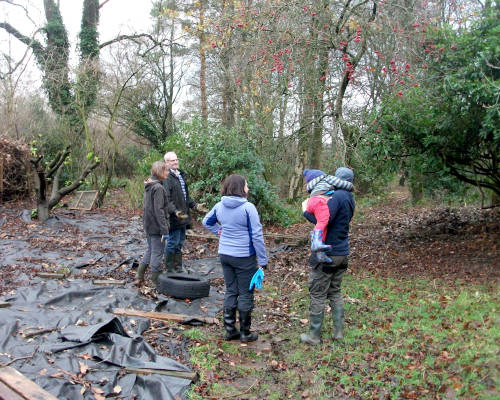 Woodland maintenance at Brindhurst Farm

Introduction to Permaculture Design
The next introduction, run as a course, will be at the Parsonage in Didsbury later this year.
An alternative is to attend one of our design practice events, where you will be able to see permaculture design in action.
Future certificate courses
PDC's can be taken either as a modular or as an intensive programme. We will publish the dates of up-and-coming courses in future issues and also on the main Northern School website.
Formats include:
one day a month over a 12 month period
over six weekends
intensive in a block of 10-12 days.
All courses are modular, if you miss a day you can take it again on another course without incurring any extra fees.
Lunchtime at the course

Get involved
If you haven't been involved with us before, consider attending one of our events or courses..
If you are friends and colleagues, old and new, we invite you to:
help out on one of our courses
drop in on our PDC sessions to catch-up or update your knowledge
help organise an event near you
recommend our courses to your friends and help create some lively and dynamic course groups.