Samhain reflections: Learning from the Spider
Moving beyond the industrial revolution of the north to weave a new tapestry of Life
During the autumn season and around Samhain we often encounter Spider - she frequently appears as well-fed and nourished after the active spring and summer months, whilst weaving the webs that will sustain her over the winter. At Samhain we celebrate one of our liminal, 'in-between' places, as the space between the physical and spiritual worlds thins. Spider has the ability to work with the energies that lie beyond the veil and so we shall turn now to her teaching…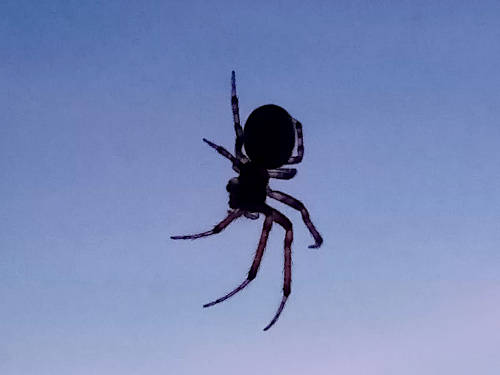 Spider at dusk by Corinne Lavis

Spider is the master of integration and establishing connections between inner and outer worlds; bringing them into unity and balance. Her immense feminine energy, that can be experienced as unsettling, urges us to look deeply into our 'shadow', to illuminate the great yet humbling wisdom that lies within. Spider is fully embodied in her figure of 8, infinity spiral shaped body. She carries a profound understanding of the web of life and all its parts. With her eight central eyes she can see the energy that lies behind all forms, noting underlying connections, links and patterns.
Spider's dexterity and patience means that she is able to piece things together slowly and steadily in a way that facilitates wholeness. She teaches us patience and how to take our time in weaving our own reality and destiny; an earnest invitation to co-create with the forces of life. Spider urges us to step into our power; to acknowledge our own needs as she tends to her own. We are to become the weavers, not the flies, as we heal our past and transform our future. Spider holds the power of creation and supports us in harnessing our own creativity and power from within.
As our old systems struggle to function, we may be feeling the need more urgently to weave a new collective web that will support, sustain and strengthen the rising life force energy that is reanimating our world. Spider understands that when old systems and webs are broken or too damaged for repair that they have served their purpose and a new web must be spun. In comprehending the message of Spider perhaps we, as human beings are called to look towards generating a new web, another pattern that will ensure that all our needs are met. A web that operates in alignment with the web of life; aiding us in moving from a world of separation into a world of unity. Will we, together, build a fresh organic system of spectacular beauty that facilitates deep and lasting relationships with each other and all fellow life forms? Certainly, permaculture design suggests we can. Some of us may find that we are making new links, fresh connections and relationships that will nurture and sustain us as we step bravely into another way of being.
Spider is hypersensitive to vibrations and energetic impulses within the web. How will we share our message and ripple words of encouragement to other people and communities who may be venturing forth just as we are? We might wonder what kind of global web we are co-creating with the forces of life that support us. We realise that we are far more powerful as an interconnected web of 'living beings' than we are as individual human beings alone. Spider brings the strands of her web together through her inherent knowledge of the universal spiral. This expands out in to all of existence, mapping out the depths of the inner journeys that we all take in our own ways.
It may be worth pondering on how we are applying this in our outer reality. What messages are we giving? Are we sharing smiles and laughter? Who are we supporting? How are we aiding the regenerative farming and permaculture movement as we build the new structures that will enable our journey in to a natural, mutually functional whole? Spider helps us to reflect on the blueprint that we are co-creating. Which healthy, life sustaining pathways are being developed and deepened?
The fine, resilient and intricate beauty of a spider's web moistened and adorned with fresh morning dew is a truly breath-taking sight. Webs such as these remind us that we can generate patterns and structures that are able to hold the living waters of life. We are shown that our fate lies in our own creative abilities and that we must take responsibility for weaving our experiences. Will our new web of human activity and connection be built on care and love? I hope so… perhaps this is a gentle message to us from Spider, as an old web broke down…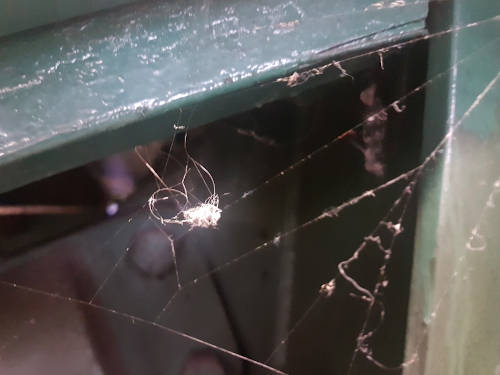 Heart web' picture taken on a recent trip to Anglesey

Be 'In-Tune' with Nature
Observing nature's pattern of movement and change: Autumn
In this season we cannot help but notice the changing temperature and the fading sunlight, the days become shorter and we feel a sense of sadness as the light around us dims. Nothing stays the same forever and we can appreciate this slowing down time to nurture ourselves ready for the coming winter. It is a good season to take stock of our resources and organize our work and home life.
The Yearly Cycle of the Elements
As we have discussed before, each season holds the energy of an "element":
Spring: tree
Summer: fire
Autumn: soil
Winter: water.
Each element corresponds to a season. In nature we see this cycle occurring everywhere, for example, as we grow older we hear the term ' autumn years', heading towards old age is like 'winter years'. Each day has a cycle, in the morning we are up and active (spring), at midday we are most active (like in summer), in the afternoon our energy slows down and we are quieter, at night time we rest, like in winter.
The "metal" element is associated with autumn. It is the most condensed form of energy. Organs associated are: Lungs and Large Intestine. The time of peak energy flow through meridians is 5am to 7am. Colour – white. Taste – pungent.
Things you can do to stay healthy and keep balanced this season are:
"Chi" body energy work to keep the meridian flow active such as, Yoga, Chi-gong, Chi Ball, "Do–In", Shiatsu, Body massage
A walk in nature
Keep neck area warm against cold winds.
Sing a happy song
Have a good belly laugh
Seek community with others
You may feel closer to spiritual world at this time of year: prayer and other spiritual practices can help, remember and thank ancestors, light a candle.
Foods to nourish in this season:
Seasonal root vegetables
White vegetables
Care for Intestinal microbiome - feed your own unique intestinal microbiome with foods rich in fibre, eat whole grain products, seasonal root vegetables, seasonal fruits and berries.
Miso – a fermented bean product, aged naturally, used to strengthen the intestinal tract
A recipe for Autumn
Kelp seaweed and shitake mushroom Stock
This stock can be used in other soup recipes. Made from kombu (kelp) soaking water
5 inch piece of kombu
2 dried shitake mushroom
1 1/2 Litres filtered water
Method
Soak the kombu and dried mushrooms in 11/2 litres of filtered water for at least 15 minutes to soften mushroom caps. Remove the mushroom and thinly slice the caps, discard the root, as it can be bitter tasting. Place back in pot and simmer gently for 10 minutes.
Before serving, remove the kombu and keep to reuse for cooking with beans (it softens them during cooking).
Minestrone Soup with seaweed stock
This is a hearty warm soup full of minerals from the kelp.
1 tbsp extra virgin oil
2-3 cloves of fresh garlic minced
1 organic large onion, finely diced
2-3 organic celery stalks, finely diced
2-3 ripe organic tomatoes chopped or tin of organic
chopped tomatoes.( I have used a tin of organic tomatoes as it adds a richer flavour).
1 organic large carrot diced
generous pinch dried basil
¼ cup each of red kidney beans, chickpeas, cannellini beans,
To cook from fresh, rinse beans, soak for 6 hrs, bring to boil and simmer until "al dente". You will receive more nutritional benefit from this method. However, if short on time you can use ready cooked, salt-free tinned beans or those in glass jars. I have used:
1 tin organic salt-free chickpeas
1 tin mixed salt-free red kidneys beans, cannellini beans
1 1/2 litres sea kelp stock- see above for recipe
1 bay leaf
1 cup tiny pasta/ brown rice, or macaroni pasta cooked as per instructions.
Method
Heat the oil in soup pot over medium – low heat. Add the garlic, onion and a pinch of sea salt and cook for about 3minutes. Add celery, tomatoes, carrot, basil and pinch sea salt. Cook, stirring until coated with oil.
Drain and rinse tinned beans and add to pan, add bay leaf and the of sea kelp stock (see below). Bring to boil, cover and simmer over a low heat for about 30 minutes,
Remove the bay leaf, stir in the cooked pasta and simmer a few minutes more. Season to taste. Serve hot garnished with fresh parsley and grated parmesan if you like it.