A sad loss
from Fiona O'Neill
We received the sad news that our friend Alan Charlton died unexpectedly in his sleep on Sunday 18th September, after feeIing unwell for a few days. Alan, as a member of the permaculture community, was known and loved by many of us, and his energetic contributions will be greatly missed.
I knew Alan quite well, as he lived locally to us for some years - we shared both training in and then teaching of permaculture sessions at Middlewood.
May the Earth forever fold you in her arms and may your ever punning, puckish sense of humour carry you on rolling wave of laughter. Rest easy now.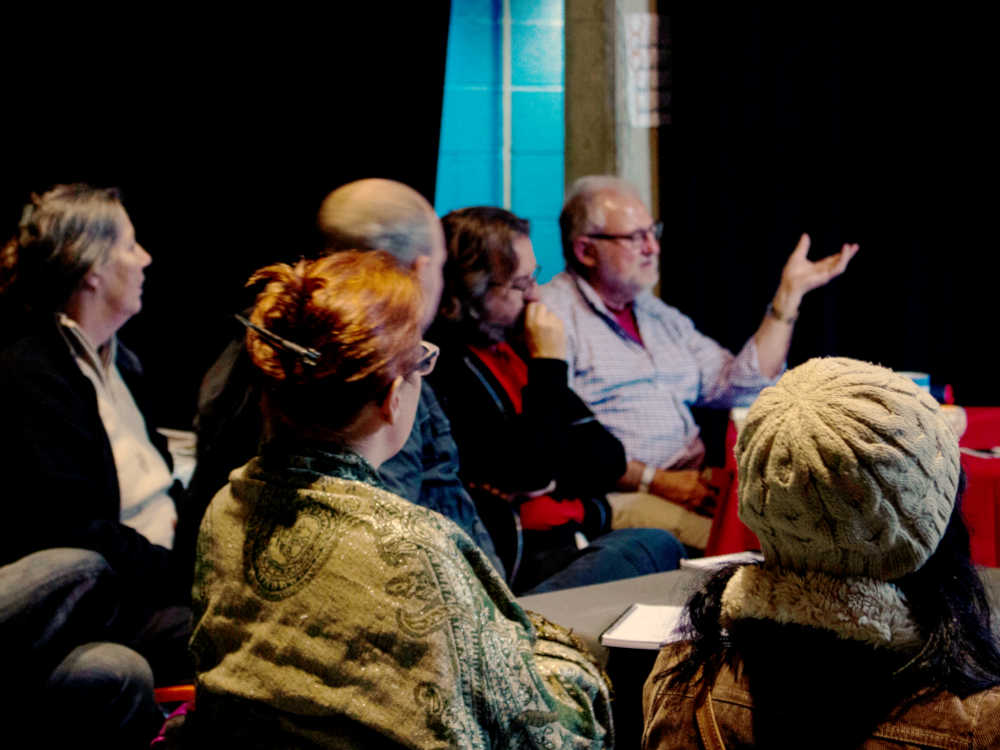 Alan Charlton holds the audience at the Northern School of Permaculture "Plan B" session
at the Permaculture Association Convergence in Manchester, September 2018

More about Alan
from Angus Soutar
In Alan's own words:
Alan has a varied background in community initiatives and started Community Led Solutions in 2010, having had extensive experience of working in the private public, community and voluntary sectors in engineering, teaching, partnership working and community development both in local authorities and the National Health Service. He is a practical environmental and conservation activist. He completed his Permaculture Design Certificate Course (PDC) in 2012 and is undertaking his Diploma with several projects linked to developing a poly-income/right livelihood. Working as an apprentice teacher and co-teaching on numerous PDC's in Northern England and Scotland he is developing his experience and understanding of the applications of Transition Initiatives and applied permaculture design. In addition he is developing and running short courses and workshops in 'An introduction to people and permaculture'; 'Action Learning Pathways' and 'Developing Practical & Social Permaculture Skills' in Cumbria, the North East and Yorkshire.
That gives you an idea of the man's CV, but we need to recognise his character, too. At the Northern School, we always appreciated his company. If he wasn't fizzing with ideas about development of future communities, he was sharing his insights gained from a long and varied career. We considered him a strong ally and there are few advocates of his calibre and passion in our circles. He will be missed.