A fond farewell
from Angus Soutar
Elaine first attended one of our design courses in 2005 and then organised the Prestwich course in 2012 allowing her to attend the course again. Following this, she continued to work with us helping with administration, marketing, social media, learning development and general strategy.
Elaine died suddenly, but peacefully, following routine surgery at the North Manchester General Hospital on the 10th April this year. Her ashes will be placed in the Darwen Memorial Forest at Entwistle reservoir. As befits a former tree warden, her commemoration will be an oak tree planted in this beautiful spot.
Made in Salford
Elaine Wright was born in 1953 in Higher Broughton, Salford. From an early age, she showed an enquiring mind and an adventurous spirit. She was to live in interesting times and, although she would travel as far as the other side of the planet, she lived most of her life within shouting distance of the River Irwell. She never abandoned the solid values shared by those communities during her childhood.
Salford in the 1950's was heavily industrial but, as today, Nature had never been completely eradicated. Elaine grew up with a love of the natural world and this would later be expressed in her work as a tree warden and then in permaculture and, of course, in gardening. The caring ethic was strong in families and communities while Elaine was growing up. Family members and neighbours would look out for each other and, as she grew older, Elaine continued that tradition.
She was never dewey-eyed about community life in Salford in the 50's and 60's. There was a general acceptance that life was tough and you just had to get on with it. But she had the art of retaining the best of the working-class culture of the period, much of which is now disappearing. She was a great resource for her family and her neighbours right through to the end. She showed that looking after people and looking after the natural world were really one and the same thing.
Dedication
She persevered through the hard times as a single parent, bringing up Jeff. She was fortunate to see her granddaughter arrive recently and there was a sense that life in her family was moving into a more productive and joyous phase. Her untimely death leaves a different form of hardship for them.
Like her personality, Elaine's work life was multi-faceted. She worked for the Civil Service and spent a considerable time as an Further Education lecturer at both Blackburn College and Bolton College, where she taught Business Studies, as well as various City & Guilds courses. She had a short time working in sales and marketing in the private sector, proving that she could make a success of whatever she put her mind to. In the years leading up to retirement she was the mainstay at Ketso, enthusing about the potential for new ways of participative planning and enjoying her work in a local family business.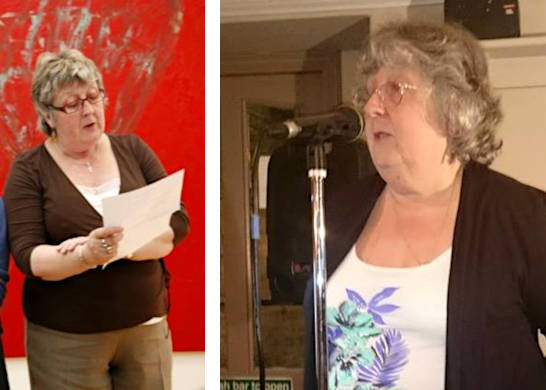 Comfortable with strangers, always willing to try out new things, Elaine was adventurous. Like other, more famous, Salfordians, Elaine would become "restless". While still in her teens, she visited the USA on an exchange visit organised by the American Field Service. Later in life, visiting her cousin on Vancouver Island, she discovered her spiritual home and became fascinated with the local native american culture. She was delighted when she found that spirit alive and well in the community gardens at Nanaimo.
Elaine and I would often discuss education and training and I saw her as something of an expert. We were both products of the post-war british education system which gave kids a good start in life, even for those of us from modest backgrounds. We both benefited from excellent teachers in "non-vocational" subjects, and an absence of the "hot housing" that seems so prevalent in today's schools. Basic schooling helped Elaine develop her passion for creative writing and the English language. Her friends at the Ramsbottom Communiy Hub remarked that when she was interviewed for a podcast she would speak very clearly in standard English. This was not to deny her roots, it was to ensure clear communication across the myriad forms that our language can take.
Elaine did not go to univerity immediately after school, but with a strong desire to continue studying, it was only a matter of time before she received the education that she needed. She was always available to discuss business strategy at the Northern School. Her knowledge of Soft Systems and her experience in the world of education and training was very helpful with in laying the foundations of the North Britain Permaculture Institute. We were rediscovering Peter Checkland's Rich Pictures as a way of bringing together our many friends in permaculture. Now we will have to press on without her.
Character and quiet leadership
To the more staid amongst her near and dear ones, Elaine was sometimes described as a "chaos fairy". Both her permaculture pals and her literary friends saw this as a compliment rather than a complaint. The more pedantic ones amongst us, however, insisted that she was a "chaordic fairy". She lived a life of chaotic order, confounding the rest of us as we lapsed into spells of "ordered chaos", advising us not to resist a bit of richness and complexity in our lives now and again and inspiring us to make changes when they were needed.
We could always rely on Elaine for a reality check (whether the reality was hers or yours would sometimes require some reflection) but her instincts were good and her directness would usually turn out to be valuable in moving our thinking forward.
These days, when someone dies, it is fashionable to "celebrate the life" and with Elaine there was much to celebrate, and so we duly did. Even in death she brought people together. But us northerners, those of us of a certain age at least, are not afraid to say that we mourn her loss, because it was so untimely and also because we are not scared of mourning. This is how we learn how to live without the support that we have become accustomed to. We learn that the best tribute we can make to the dear departed is to carry on their good work.
You can find out more about Elaine's writing here