We welcome your contributions to Northern Edge and we will publish as many communications as we can. In this section, we publish your correspondence, responses and short postings. You can contact us here Request a notification when the next issue is published.
Adventures in New Zealand: Surveying the Landscape…
Observations from Aotearoa - Freddie Cannon
For the first three months of this year I was fortunate enough to spend time cycling in New Zealand. Starting from the top in Cape Reinga to the south of the South Island. Travelling around on my bike at a leisurely pace, I made many observations but they could be categorised into two themes. They are as follows…
The first and most obvious is - New Zealand is a spectacular and varied place with incredible differences in climate and landscapes despite being a relatively small nation. From the sub-tropical Northland with its giant kauri trees to volcanic central North Island to the South Islands wet and wild West Coast and "alpine" Southern Alps and much, much more.
The second is New Zealand is in a constant battle to preserve and sometimes restore it's unique biodiversity and landscapes. The threats such as economic interests and introduced species are well known. But from my observations what struck me was the contrast between the beauty and variety of the native forests (both original and re-wilded) compared to the bland (mainly monoculture) agriculture and the dark depressing conifer plantations. Cycling in the Herekino forest in the Northland with its giant ferns, on a steep hill rolling down to the blue ocean, a tropical South Pacific paradise. I remember thinking why would anyone want to turn this into a sheep farm.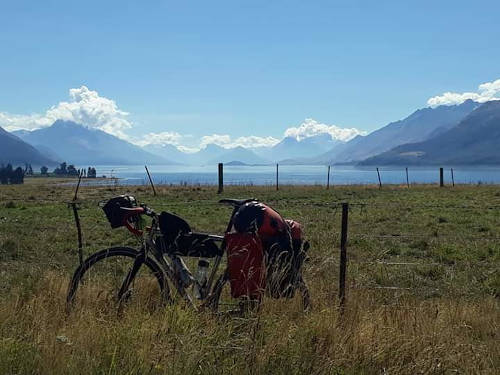 As discussed earlier, New Zealand has variety. But this changing landscape seemed to be constant even within short distances. This is best illustrated by my final two cycle rides. The first was along the south coast of the South Island. Although l had a couple of amazing wildlife experiences - swimming with dolphins and seeing sea lions on the beach (and being warned by a surfer not to go swimming, due to the great white sharks praying on those sea lions). That apart, this area felt quite familiar - the weather was wet and grey and the landscape was green, agricultural and hilly, not unlike some parts of coastal England.
But within a few days and less than 50 miles away I was cycling along NZ's most famous cycle route - the central Otago rail trail. The central Otago area is a dry brown high plain with rocky outcrops, surrounded by mountains and hills on all sides. It boasts of being both the hottest and coldest as well as the driest area in NZ. The temperature range is 40 degrees C in the summer to -20 degrees in the winter. The route was converted from a railway which had been running right until the 1980's. It stood vacant for a couple of decades, being turned into a cycle trail in the early 2000's. Despite the initial bemusement from the locals, the enterprise had been a great success, its usage has gone way beyond expectation. The route was well served with accommodation, cafes, cycle hire and tourist information centres (the old stations) in the rejuvenated small towns along the way.
Travelling through this spectacular arid land with snow capped mountains in the far distance on an old colonial railway track… it felt like being in a western. I had peddled from Devon to Utah in just a few days.