Be 'In-Tune' with Nature
A Spring Poem From My Garden Chair
The Bees are swarming
It is so alarming
The Sheep are running away
Janice wonders if the bees are hers
She puts on her white protective clothing
And goes off to check it out

Angus is busy sewing and planting
Krysia is just be-ing watching everything -
Just watching from my garden chair
Lee arrives to fix the electric fence
To keep the sheep in the field - they keep escaping
The Apple tree is blossoming
The sun is shining
Breakfast was satiating
The Sunday papers have been read
They are full of dread

My washing is drying on the line
I have just heard a cuckoo cry

My left arm is hurting
I am not the same as I was before

Oh Dear!
Little Mae a rescue dog has jumped the wall
She's in the field chasing a sheep!
Her owner shouts and shouts
But to no avail
The sheep goes under the electric fence
And hides in the woodland below
What a commotion!
We are all concerned -
Just watching from my garden chair
Angus decides to help
He goes over the electric fence
And over the barbed wire fence
Now he is struggling in the bushes
Janice shouts leave it be it will find its own way home
The sheep appears by the gate but it can't get through
I call gently - it slides under the electric fence to join the flock
And Angus is left to climb the wired fence

I see Mae's owner in the field she has her on a lead
We are all relieved
What an eventful day its been -
Just watching from my garden chair.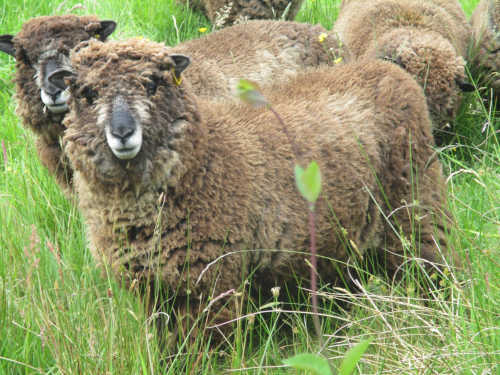 The Ryelands have moved back in.

Recipe for springtime
Tempura of wild garlic flowers and asparagus with pickled radish
Wild garlic is a member of the allium, or onion, family. Also known as Ramsons, it starts to grow in abundance around our woodlands as the light increases and the leaves are still off the trees. Ramson leaves and flowers are delicious raw, chopped thinly and added to various dishes.
Ingredients:
Wild garlic flowers
Formby Asparagus
Tempura mix
Sunflower oil
Lemon (slices)
Pickled radish ("quick" pressed)
Method:
Prepare tempura mix as directed in bowl
Add sunflower oil to pan, enough to cover and bring to heat
Wash asparagus and pre-cook in boiling water for 1min, drain on kitchen paper.
Add asparagus one at a time to batter mix, add to hot oil until lightly browned, drain on kitchen paper
Dip wild garlic flowers into batter mix, then add to hot oil until browned, drain on kitchen paper
Serve with lemon wedges
Quick-pressed pickled radish - cut radish finely, add to pickle press, sprinkle with vinegar of your choice, I used umeboshi vinegar. Leave for 10-15 mins, then remove. If taste too salty then rinse and press again. Or, you can just squeeze the cut radish between your hands if you have no press.