We have the Permaculture Design course in Broadbottom currently advertised, and our Gardening for Wildlife will be running at the Laudato Si Centre. There is much effort going into our Ecological Gardening programme (EGET) and the next social event is on the 17th September.
---
Permaculture Design Course at Broadbottom, Cheshire
PDC at Broadbottom near Hyde, Cheshire 24th September 2022 to 12th August 2023. This full, modular Permaculture Design Course, certificated internationally by the Permaculture Research Institute will run for one Saturday a month for each of the 12 months. Learn more and booking information.
---
Autumn social event in Prestwich
The Northern School's Autumn Gathering will take place Saturday 17th September 2022 in Prestwich. It will be an informal, family-friendly event, for graduates of the School's courses, current and prospective students. Join us to carch up with old friends and meet new people for the first time. Hope to see you there. Please book here. (There is no charge for this event).
---
Gardening for Wildlife
A two day course to explore how to transform your garden into a safe haven for wildlife. One session in July and another in October, so you have the opportunity to work with the seasons to provide habitat for insects and small mammals. Read more and book here.
---
Ecological Gardening Essential Training at Laudato Si Centre
This programme runs on Saturdays, from October 2022 to Spring 2023, as a full six modules course at Laudato Si Centre in Worsley, Manchester. It is designed as a foundation in ecological gardening essential training and is suitable for students who are new to permaculture design and for students who have completed Permaculture Design Courses.
In the current programme, you will learn how to build healthy soil by selecting the ideal composting systems for your specific needs and site, how to embed self-watering systems in the garden that work for you and your plants, how to structure permanent planting schemes in your garden with trees and other perennials, how to get started with edible polycultures to grow organic produce all year round, and how to embed and build wormeries for the eco-garden. Places are limited to 18, so book early to avoid disappointment. Read more and booking information.
---
---
More about the Permaculture Design Certificate Course (PDC)
The Northern School of Permaculture delivers, amongst other things, the Permaculture Design Certificate Course (PDC). This is open to anyone who wants to create a sane and safe future for themselves, their friends and their families. The course is based on the pioneering work of Bill Mollison and follows the international curriculum of 72 course hours, as originally designed by Bill himself. Our lead trainer is Angus Soutar who has 30 years experience of practising and teaching permaculture design. Angus is accredited internationally by the Permaculture Research Institute (PRI).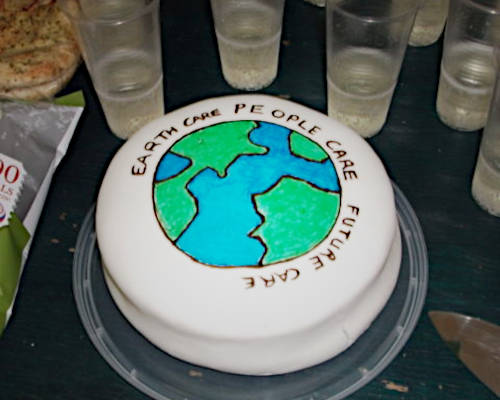 The ethics of caring and sharing

---
Staying connected
If you are a graduate of one of our design courses, you can link up with fellow graduates and the core team on our Alumni Telegram Group. You can find more details here.
Keep in touch: on Telegram @teresa_pereira or via our staff contact page
---
Get involved!
If you haven't studied with us before, consider attending one of our events or courses.
If you are friends and colleagues, old and new, we invite you to:
help out on one of our courses or drop in on our PDC sessions to catch-up or update your knowledge - contact Angus on Telegram @angssoutar or via our staff contact page
help organise an event near you - perhaps a local visit or even one of our Design Practice Events (see previous "Whats On") - contact Teresa on Telegram @teresa_pereira or via our staff contact page
recommend our courses to your friends and help create some lively and dynamic course groups.
Events Coordinator Teresa Pereira