Northern School "Open House" at Manchester Road
Our autumn get-together will be held at the Manchester Road Community Centre on 21st September 2019. It's a chance to meet up with old friends and maybe make some new ones. The event is open to all, friends and family are welcome - drop in any time after 3pm, we will finish up around 8pm.
For those of you who haven't been to the old school before (it's on the main road from Prestwich to Bury, and handy for public transport and the motorways), there is plenty of space for impromptu activity, although nothing formal is planned. Come along and help to make it happen!
There is no booking fee but we will ask for a small donation to the Centre on the door. Please book here to receive more details and updates. And it will help us plan the event.
Field Trip to RHS Bridgewater
We have a field trip lined up to the new RHS Bridgewater Garden in Salford. Don't miss out on this pre-opening tour with a design preview of the 62 hectares site, which will be the largest show garden in Europe at the time of publication. Join us on Monday 30th September from 10 am to 1pm on what is guaranteed to be a great opportunity to get acquainted with the design for the Royal Horticultural Society's newest Garden. Tickets are £5 and still available, but places are limited. book here.
Urban Gardening and Practical Permaculture Skills
The workshops on this programme enable the implementation of a specific permaculture designed garden. The current series supports the tiny urban garden project that focuses on growing plenty of food for a family of 3 on a very small space whilst also generating habitat for wildlife and a relaxing gathering space for family and friends. The garden has been designed to achieve the highest possible level of self sufficiency in terms of the resources it uses. Everyone who has taken part on any or several workshops will be invited to attend the event that launches this urban garden space at Homes for Change housing co-op in Manchester.
The Art of Composting 04.10.2019 - Unlock the mysteries of soil to design efficient polycultures. Soil is the foundation of the garden. How would you design efficient composting systems that fit your site's needs, your lifestyle and available time and resources? If you want answers, you will find them on this course. Read more and booking information
Gardening with Perennials 05.10.2019 - Learn how to apply the ecological patterns found in forests to design permanent edible and medicinal cultivated habitats. These patterns of cultivation can be applied to any scale, from a patio or balcony garden to any acreage, although the focus of this workshop will be on urban settings, ranging from private to community garden spaces. Read more and booking information
Self-watering Systems 28.03.2020 - Learn the theory and practice of efficient self-watering systems for any size of garden. Drought-proof your garden and go on holidays knowing your plants shall be well watered. Read more and booking information
Polycultures for Spring and Summer 03.04.2020 - From window box to market garden you will learn how to design effortless planting schemes that nurture soil, wildlife and people. First we will explore the secrets of polycultures by learning the underlying principles that create successful communities of plants, and how you can use those patterns when gardening. Read more and booking information
Upcoming modular Permaculture Design Courses
PDC at the Parsonage, Didsbury, South Manchester, October 2019 to July 2020 This full, modular Permaculture Design Course, certificated internationally by the Permaculture Research Institute will run one Sunday a month, starting with a full weekend in mid-October. Sessions will continue one Sunday a month until July 2020. (At the time of writing, there are only a few places left). Learn more and booking information.
PDC at Manchester Road, Bury, North Manchester, February 2020 to January 2021 This full Permaculture Design course, certificated internationally by the Permaculture Research Institute will run on one Saturday per month over 12 months. It starts on the 22nd February 2020 and finishes in January 2021. Learn more and booking information.
Tell your friends! Poverty need not prevent people from attending. Payment plans may be negotiated with those who have difficulty finding the course fee. For more information, see more on our website.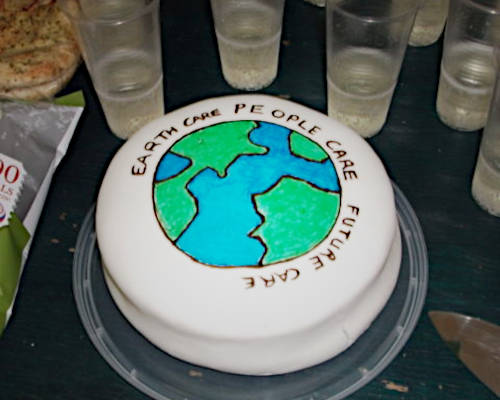 The ethics of caring and sharing

Ecological Gardens Design Course
The Ecological Gardens Design Course is suitable for students who are new to permaculture design and for students who have completed Permaculture Design Courses. Book and pay the deposit before 12th September 2019 to benefit from the Early Bird offer. From November 2019 to March 2020, over eight sessions we will guide you step by step on the journey to accomplish a final design with a plan to create your dream green space. The course will take place at The Parsonage in Didsbury, south Manchester. Places are limited and the upcoming course is currently oversubscribed, however if you are interested you can still register your interest and book a place. If six more students join we can deliver the course at another Manchester venue. Find out more and booking information.
Get involved!
If you haven't been involved with us before, consider attending one of our events or courses.. If you are friends and colleagues, old and new, we invite you to:
help out on one of our courses
drop in on our PDC sessions to catch-up or update your knowledge
help organise an event near you
recommend our courses to your friends and help create some lively and dynamic course groups.