In this issue, we have reports from the PDC's in Bury and at Warland Farm. We include a short piece about our summer social gathering and some news from Dave Venus
Another year at Manchester Road Community Centre
Angus Soutar
The 2022 Permaculture Design Course at Manchester Road Community Centre got off to a good start with us finally shaking free from the pandemic restrictions that have cancelled and hampered our meetings during recent years.
We are delighted with the qualities shown by the participants on this year's course. People are more aware than the groups of, say, five years ago, discussions are livelier and we all seem to be learning faster. It all gives us hope for the future.
The glorious summer weather has allowed us some comfortable time outdoors to explore the local (suburban) environment, its ecology and also the river system in that part of Bury. Both the Roch and the Irwell are within easy walking distance of our Manchester Road "headquarters" at the old St Peter's school building.
---
Permaculture Design Course at Warland Farm
Angus Soutar
The seasons roll by at Warland Farm as we progress with the PDC there. The arrival of summer emphasises the stunning location in the steep-sided valleys of the Central Pennines.
It's good to good to work on a site where there are many good examples of permaculture design in action.Everwhere we turn the landscape is coming alive: more diverse, more productive. There is no reason why these hills could not provide a good living in the future.
We have got to the pont in the course where we are considering our usual design practice projects, participants are coming up with great ideas and we have something to look forward to when these will be shared later on.
---
Social at Broadbottom
We had another reason to be thankful in June when Northern School graduates, students, their friends and families gathered together at Broadbottom for our second social event of the year. We have lost a lot of ground during the pandemic because we have not been able to meet and mingle freely, it's easy to forget how important this is as we prepare for an uncertain future.
The afternoon showed how good we all are at self-organisation. Time passed quickly with tea and cake and lots of chat: news, projects (sometimes technical and work-oriented) and general catching up.
The day ended with a group expedition along the banks of the River Etherow, with a bit of location-scouting for the forthcoming PDC at Broadbottom. Although the day was a great success and the weather was ideal, we don't have any photos that do justice to the occasion. If you come to these events and take some pictures, please consider sharing them with us.
---
Dave Venus writes
I'm one-step removed from the world of permaculture at the moment. Not so much removed, more on the sidelines cheering on wholeheartedly. I still have my worm farms and my chickens and somewhere underground my hugelkultur forays are magnificently unfolding, I'm sure. I know permaculture isn't 'gardening', it's more of a 'Great Listening', but the garden seems the easiest space for it.
My little boy is coming up 8 in August and he's been joined by his lockdown sister who was born, appropriately enough for 2 hippy parents, on the Winter Solstice. T'was the night of the Great Conjunction no less. It was also the week the great plague knocked on our door and Claire gave birth alone and with covid (I mean she had a midwife but no-one she actually knew and had a bond with was allowed to be there). God's Grace she's a very healthy 17 months old now.
I have more stories but I don't want to bore you with them here!
Dave (AKA Manos) is a Gateshead lad who still lives in that part of the world. He graduated from our PDC at Tap o Noth Farm in 2015. Angus adds the following photo for the "From the archive" section. Where are they now?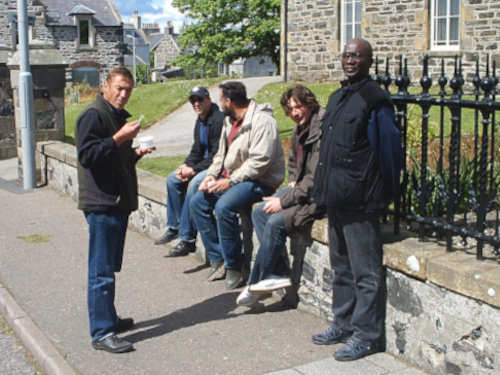 Tap o' Noth PDC field trip to the Carbach, a Speyside distillery and beyond, summer 2015
A motley crew but a great one - more like these, please!

---
News in brief
Chris Mallorie (Parrs Wood course, 2016) writes " Abi, Ed and I finally settled on some land in Portugal in a depopulated region of the Algarve. Granted, we have fire risk but we have a roof over our heads, some good land and multiple water sources. Just about to start harvesting tomatoes after a hard few months setting up a kitchen garden.
"The forest garden back in Macclesfield is still in action and my parents now start to 'get' it. They thought I was bonkers for several years working away down there! On the forest garden front, I was one of the speakers at the International Forest Gardening Symposium hosted by Martin Crawford and have been accepted as a speaker for the next one in June 2023. My topic is the pruning of fruit trees, in particular apples, in forest garden /agorforestry context - throwing out the conventional orchard approaches in favour of a more suitable system for the semi-wild home garden/forest garden context."
"I hope to share some pics with a bit of writing soon."
Russell Neary (Chorley course, 2017) was lucky enough to retire about 18 months ago and has moved with Paula to a smallholding in Dumfries and Galloway, Scotland. "We consider ourselves very lucky and appreciate being in a rural area", he says. "It is a lovely part of Scotland here. I was working this morning down in the trees and listening to the birds. It reminded me how much I appreciated what you taught us on the course and what a great influence you were."
Russel and Paula are a bit far away now to join in with our usual activities. However, we get the feeling that they are enjoying their new-found status as "the only permaculturalists in the village"!
Mike Alty (Bury course 2019) has settled with his family in Hebden Bridge. Alongside putting his DIY skills to good use on a 'doer-upper' and trying to work out what a permaculture inspired kitchen might look like, he's also busy in the observation phase to transform the garden into a forager's feast . He hopes to be in touch again soon.
---
Send in reports: projects, events, updates
We invite you to send in reports and articles for publication, no matter how short. A quick message is enough to prompt us to put in a line under "News in brief".
When you read through Northern Edge, remember that you are a producer as well as a consumer! You can contact us here
---