Paula Moses recently caught up with George Bate, Programme Manager at The Running Charity.
A Permaculture Journey
Paula Moses talks to George Bate
George completed his PDC with The Northern School in January 2020. He would be the first to say that he was new to this permaculture game but I can testify that he has all the right qualities and ethics to be a fully-fledged permaculture designer. See for yourself from his answers to my questions.
George tell me about how you came to permaculture?
I could say that my permaculture journey started a long time ago. I completed a degree in Environmental Management in Manchester back in 1996. With a baby on the way as I graduated (my promise to my wife for supporting me through university!) I drifted into a job in the pharmaceutical industry and got sucked into the trappings of wealth that so many of us fall into. After 20 years of corporate drudgery I escaped at the end of 2015 after hearing about a charity in London that used running to help young homeless people transform their lives. Burning my suits (and most of my golden handshake) I spent the following year setting up a Manchester branch which was successful enough to attract funding so that I am now employed full time managing the charity in the north.
What did you do first?
I built some raised beds with some reclaimed drawers in my back garden, filled them with some compost and scattered a wide range of seeds – no rows and no plan – and I waited, which suits me as I am naturally interested in relaxing in the garden instead of hard labour!
Have you any experience of edible gardening already?
I live in the street where I grew up, in fact I live next door to my parents. My father is a very keen gardener and follows very traditional methods of digging, fertilisers and pesticides. He is successful but I have always thought it looked too much like hard work!
I am pleased to say that my low maintenance approach paid off – my vegetable beds have been extremely productive – much to the annoyance of my Dad, but it has given me the opportunity to start to discuss permaculture with him.
What is your hope for the future?
Over the last ten years my street has changed significantly, it is now much more affluent but there has also been a parallel drop in community spirit and gardening. Many gardens have been paved or covered with artificial grass. I believe that the way I can make a difference is through leading by example so I have designed my project to be in my front garden so that people can see it as they walk down the street. I am going to grow fruit and herbs which I hope will be really productive so that I can share the harvest with my neighbours.
Do you have any final thoughts or advice for anyone just starting their permaculture journey?
Relax! The best thing about permaculture is that it is low intensity and there are lots of opportunities to sit back and enjoy nature. Grow what you like to eat, start small and build on your successes!
To find out more about The Running Charity visit their website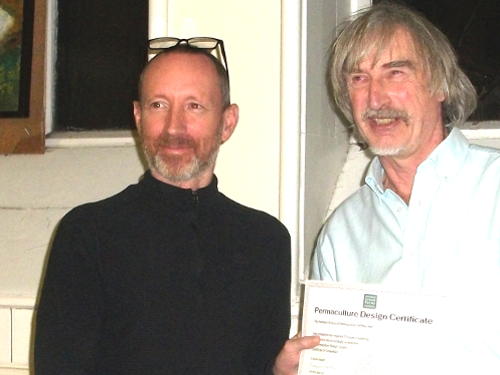 George and Angus at Manchester Road