A reflective moment ...
Over the past year, the Northern School braved the online territory and embraced remote working. We developed robust systems to stay connected, support each other and teach in the digital sphere.
Lockdown 1.0 triggered a team effort to adapt the full Permaculture Design Course [PDC] to online delivery, so our students could continue their journey. Our aim was to keep the best of the classroom experience: the social interaction, spontaneous discussions, and the group work, so vital to the learning process.
We are striving to create engaging learning spaces and we keep it simple, using Zoom, Telegram and creative ingenuity to make the digital classroom interactive, as well as maintaining effective, mutual support networks for students and teachers.
So, graduates from last year's Didsbury PDC and Bury PDC, and present on-line PDC students, how are we doing? Share your observations, highlights, and suggestions. It is great to hear from you. Get in touch here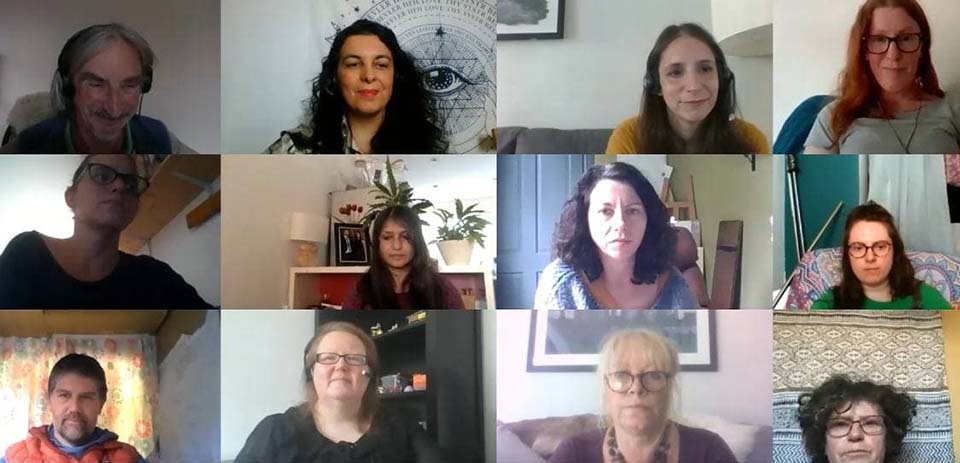 PDC Online 2020

We now offer the PDC online via a blended learning program on zoom, starting in Autumn
By lockdown 3.0, we have built teaching capacity and digital confidence. We are halfway through delivering the very first PDC Online with the Northern School. There are added benefits to the digital landscape, such as the bridging of cultural and geographical boundaries. It is a whole new world, where we are taking the Northern, no nonsense, hardy yet hospitable approach beyond borders.
We wouldn't be here without the unflinching commitment of our new apprentice teachers. Marie Edwards and Suzanne Clifton go above and beyond their apprentice teacher duties, supporting on, no less, than three PDCs this past year. Without their enthusiasm, facilitation wizardry and dedication we could not have done it!
Permaculture Design Course in North Manchester
Going forward, we aim to resume teaching the PDC in the classroom at Manchester Community Arts Centre in Bury, North Manchester. Oh, analogue classroom life! We miss you dearly and can't wait to see you. It has been too long!
This certificated Permaculture Design Course is postponed because of restrictions and will now start in April. There are still a few places available. Please share with friends and organisations who may be interested, and prefer the physical classroom environment. Should corona restrictions impose further delays, we will simply roll on to the next month until it is safe to start.
Tell your friends! Poverty need not prevent people from attending. Payment plans may be negotiated with those who have difficulty finding the course fee. For more information, see our website.
More about the Permaculture Design Certificate Course (PDC)
The Northern School of Permaculture delivers, amongst other things, the Permaculture Design Certificate Course (PDC). This is open to anyone who wants to create a sane and safe future for themselves, their friends and their families. The course is based on the pioneering work of Bill Mollison and follows the international curriculum of 72 course hours, as originally designed by Bill himself. Our lead trainer is Angus Soutar who has over 25 years experience of practising and teaching permaculture design. Angus is accredited internationally by the Permaculture Research Institute (PRI).
The upcoming programme of courses and events reflects the diversity of approaches we can now offer. A more resilient Northern School of Permaculture emerges from this crisis: more local, diverse, and interconnected than ever.
How to stay connected before, during and after the Permaculture Design Course
Alumni! Join your Telegram Group!
There is a now a Telegram Alumni private group for our PDC graduates. It is a great space to get feedback on your projects, find news from the graduates' guild and stay tuned to current events. A lot of educational resources being shared as well.
If you have a PDC completion certificate from the Northern School, join the group. With individual course social media channels, activity tends to fizzle out after a while, so the Alumni chat is ideal for staying in touch with a wider pool of course graduates.
Telegram is a versatile and secure messaging application: first download, install and activate your account, then join 'Alumni Northern School of Permaculture' via this link. When you join, say Hello! We look forward to hearing or reading your news.
The app has a neat display system for shared files: it sorts media, documents and links in separate tabs, and shows the respective thumbnails or lists. It makes it easy to access any media, docs and links, without downloading to your device. It all stays in the cloud, unless you want to download.
Another useful feature is free audio calls with several people in conference, which is something we haven't used yet and intend to explore. If you don't like to type or can't overdo it, you can broadcast audio messages.
We chose Telegram, mainly because it offers full functionality in all devices: desktops, laptops, tablets and smartphones. Plus, it appears to be free from data harvesting and privacy invasion. So, take your pick from your devices or install across all your favourite ones. It is available for Linux, Windows and Mac OS. Download the app from your app store or from their website
Seasonal Talks
Join our seasonal gatherings, at present on zoom, in the form of seasonal talks. Thursday evenings, between 6.30 and 8 pm, our guild of teachers, graduates and associates delivers talks on topics under the overarching theme, Resilience.
The seasonal talks are sparking flashes of inspiration, bright ideas, and lively debate, challenging us to consider new perspectives on education, technology, energy and food production, strategies to cultivate wellbeing and the pivotal role ethics play in a new, emergent, more wholesome world. They are open to all, whether you're only permaculture curious, a newcomer, a current student or a seasoned practitioner. You can survey our social landscape and keep up with the team.
The Winter series ends in March, so don't miss out. Book now.
The Summer series starts after Easter, one Thursday a month. As Spring, the harbinger of light returns, we will meet online less often, to make time to garden and enjoy the warmer weather. Stay tuned.
Design Support Sessions
Are you missing our discussions about projects and designs? Well, then, join us on Friday, 26th February, on zoom, at 4 pm. Recent graduate from the Didsbury PDC, physicist and Masters Ecology student Henry Blomstrand presents a few eco-gardening projects he is working on in Wales and London. He would love to hear your feedback and wise advice.
If you have not attended before, Design Support Sessions are spaces where we discuss projects and engage in collaborative design. They are open to all our graduates and students. They are led by experienced tutors and you may join in whether you're just starting out or you are a seasoned practitioner. Book here
Ecological Gardens Design Course
The Ecological Gardens Design Course is suitable for students who are new to permaculture design and for students who have completed Permaculture Design Courses.
The course is delivered in a blended learning format. Starts on Sunday, 28th March. We will meet on zoom once a month and follow up with practical sessions outdoors, alongside using online tools to build skills in designing Ecological Gardens. This course runs over eight sessions in which participants will be guided step by step on the journey to accomplish a final design with a plan to create a dream green space. Find out more and register here.
Would you like to organise an event in collaboration with the Northern School?
Get in touch: on Telegram @teresa_pereira or via our staff contact page
Events Coordinator Teresa Pereira